~~~~~~~~~~~~~~~~~~~~~~~~~~~~~~~~
There's a lot of pictures on this page. If some don't "show" (especially towards the bottom) hit the "Refresh" button (or F5) and that should solve the problem.
~~~~~~~~~~~~~~~~~~~~~~~~~~~~~~~~
Note: I have added some NEW non-car photos.
~~~~~~~~~~~~~~~~~~~~~~~~~~~~~~~~
The first pictures below represent much of the motorsports experiences I had as a young guy in the '60s and '70s, living in New Jersey. Some of the later ones are non-motorsports shots of friends and family. Many of the pictures are mine but some are also from others who also lived in the greater NY/NJ area. Those pictures are credited as appropriate.
When I saw this picture (below), I recognized the car right away. It's Anson Baker's wild, nitro-burning TR3. I used to see it all the time when I'd run autocrosses in the late '60s and early '70s here in New Jersey. I also recognized the name of the photographer, since Bill is a guy who raced in EMRA with me. It's funny...I only really got to know Bill a few years ago, but I was telling him about this picture and I realized that we attended a lot of the same events. After I saw Bill's photo (on a car website), it occurred to me that I might have some decent shots from "back in the day". So I've scanned some of them and added some dialogue as appropriate (below).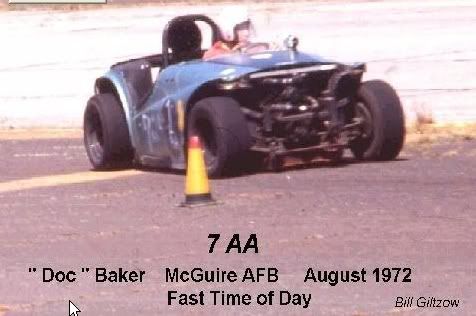 Some photos are from the 60s while most are from the early 1970s. The majority are from auto-cross events (often called "autox", "field trials" or even "gymkhanas"). There may be some mistakes of errors here...remember, it was the 60s. ;) If you see any mistakes, let me know. Great thanks to Bill Giltzow and Bill James, who provided some of these pictures as well as clues to the content of many of them. If any of you out there have some old motorsports photos from the northeast USA, let me know. I would be happy to post them (with credit to you, of course).
NOTE: The descriptive captions for all these photos are "above" them.
~~~~~~~~~~~~~~~~~~~~~~~~~~~~~~~~~~~~~~~~~~~~~~~~~~
MGA-Owned by Bill and Judy James. They still own the MGA (Since 1964) and are restoring it back to race trim. They are retired and live in NC. (photo credits-Bill James)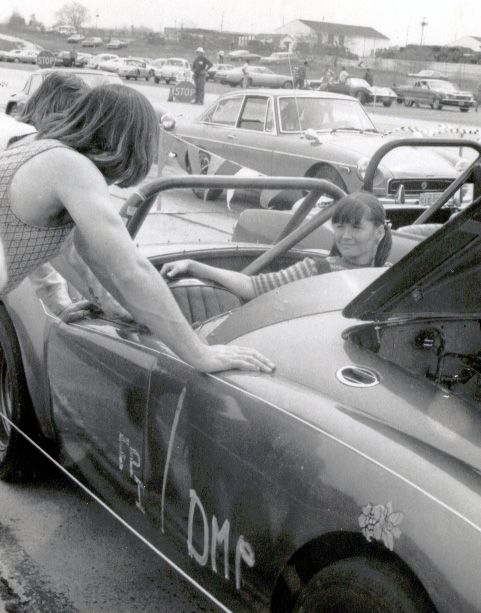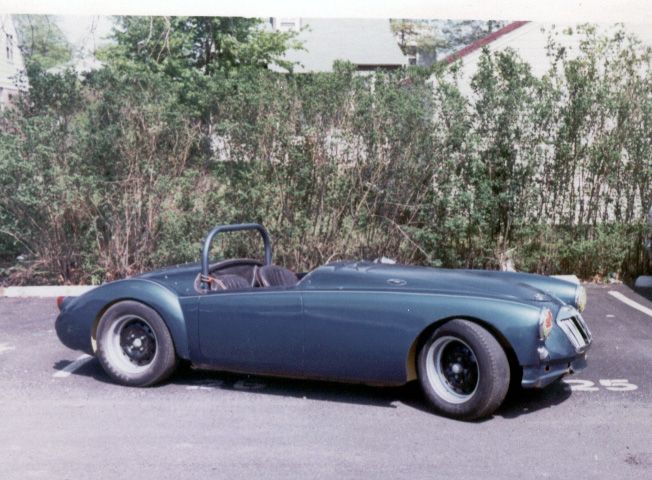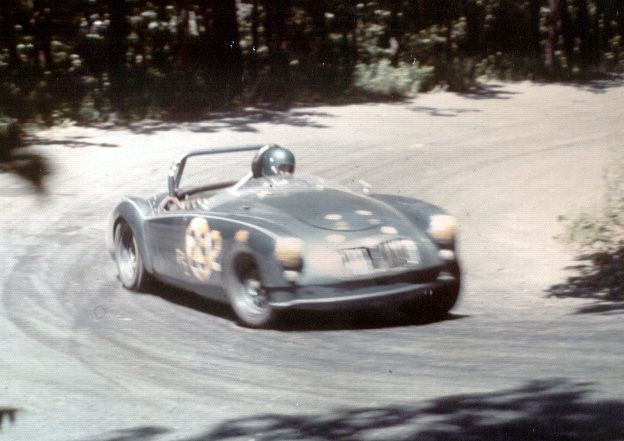 Here's me with my Bugeye at McGuire AFB around '70. The guy out front is Sam Woodson, my bandmate and fellow MGA owner. Sam owned an MGA Coupe and his Dad had a Jag 3.8 sedan. He bought a Sunbeam Tiger later on. I think he has a Spitfire and Corvette these days. In the rear is Dave Fuchs who went on the design stuff for jet fighters. I'm not sure why I'm sticking my tongue out. That's Anson Baker's wild TR3 coming up behind us.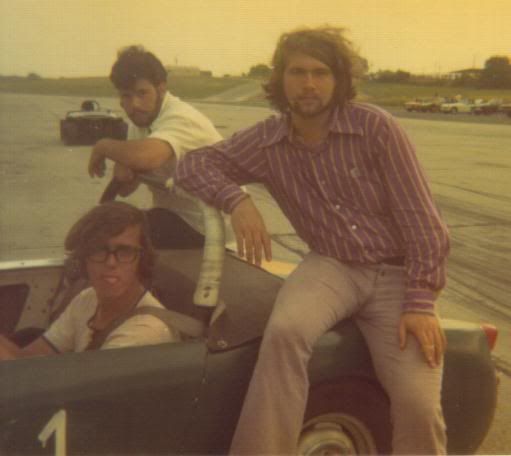 Here's Sam's 1600 MGA coupe. Ford hub caps! I had a 1500 MGA roadster at the same time and we would race around Jackson NJ as kids. Mine had wire wheels and one fell off in a hard turn at about 60 mph one time. Quite a fright!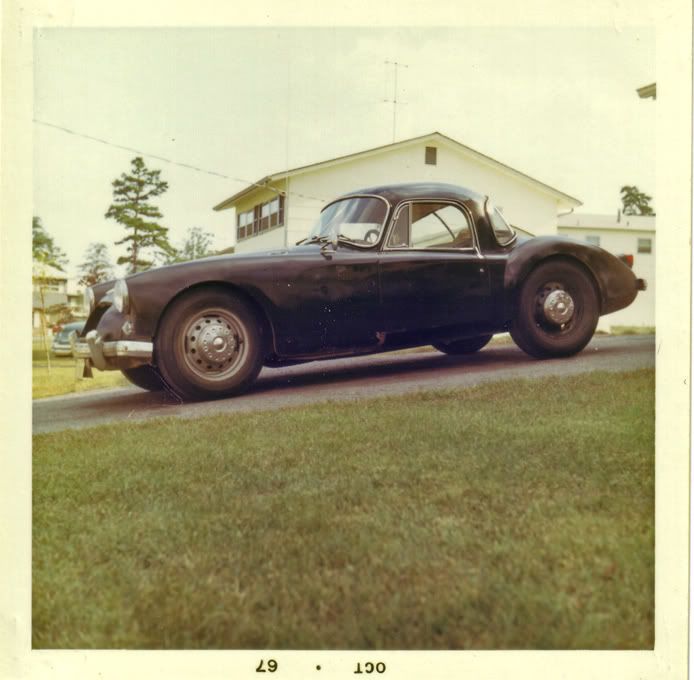 I was a member of Delaware Valley Sports Car Club when many of these photos were taken. Here's some stuff I still have with the DVSCC logo.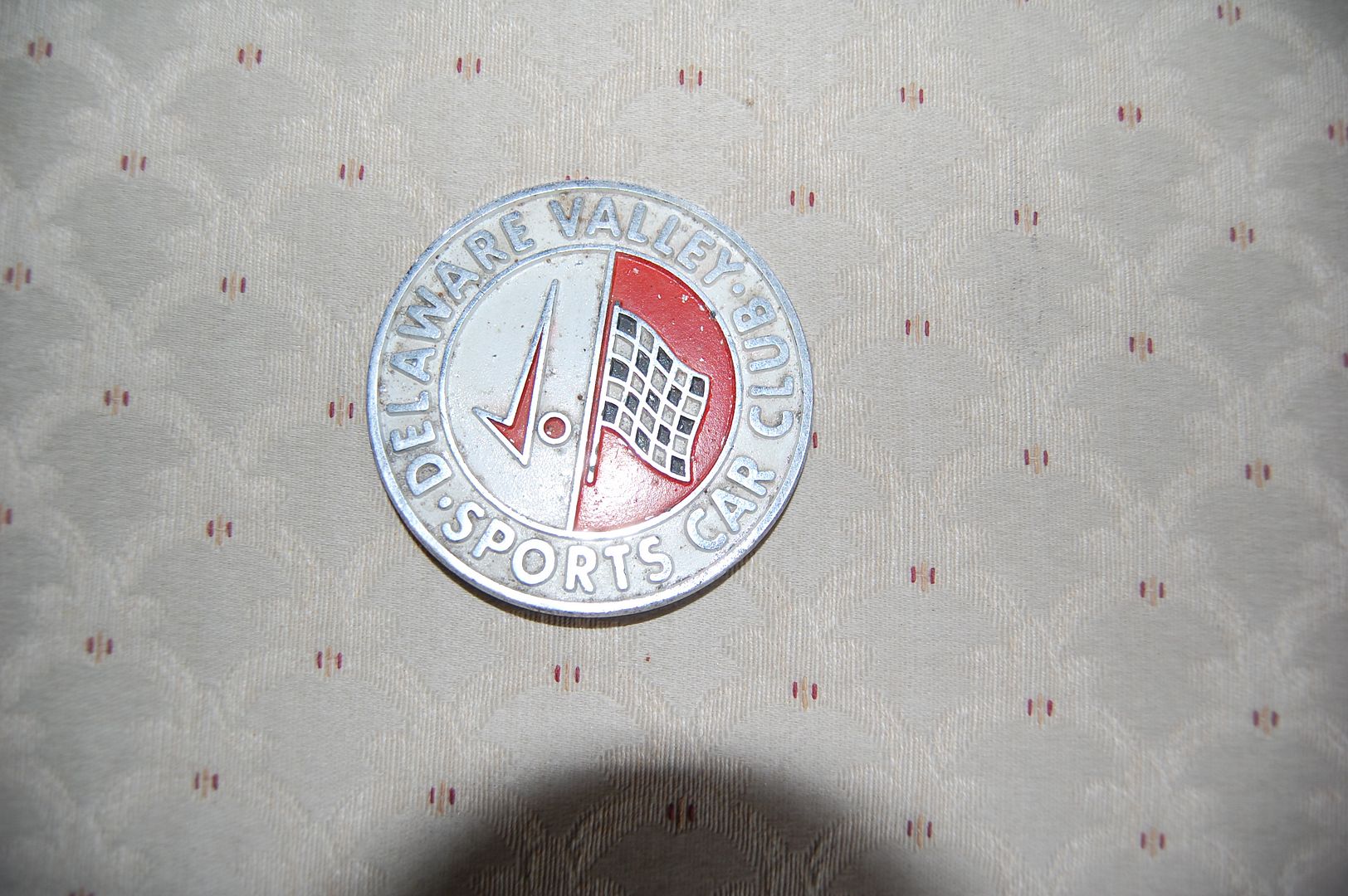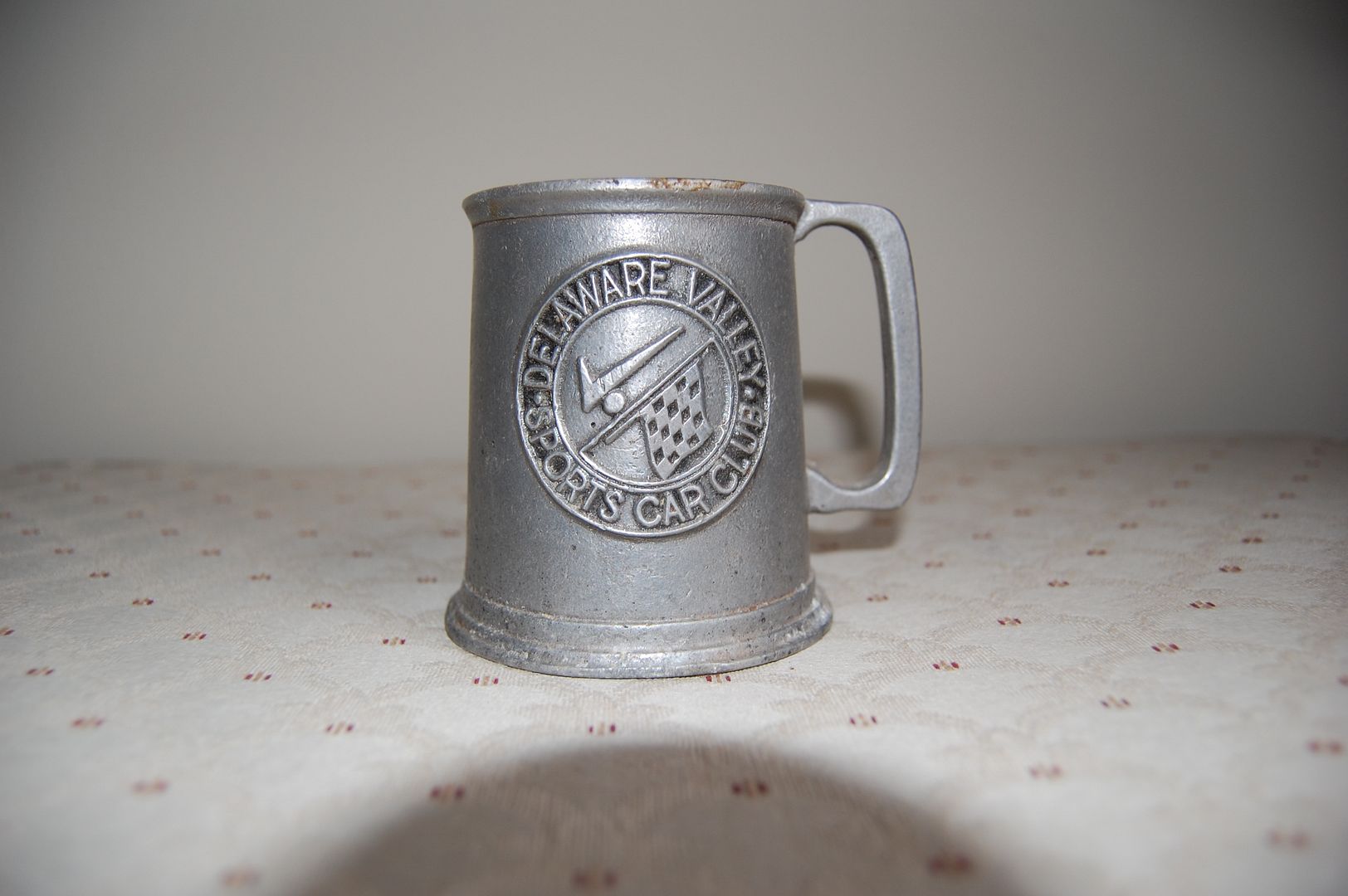 When I started club racing in the early 70s, I joined "Scuderia X". It's still around and is affiliated with EMRA.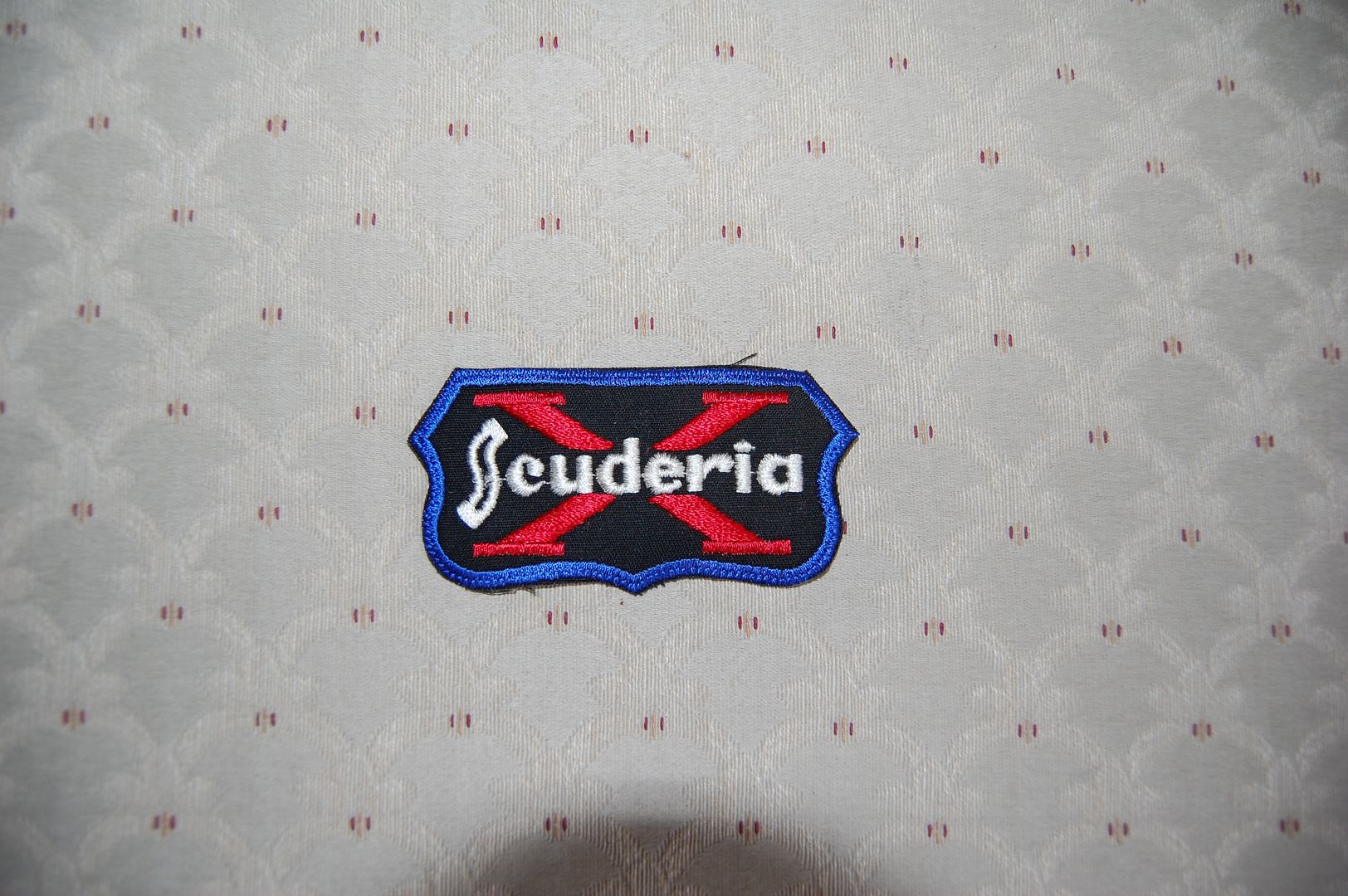 This wonderful composite picture was taken by Dave Zipkin in the mid '60s, when he and his friends went out Bridgehampton. He grew up in Long Island and is a car-guy, so it's not surprising that he had this. Dave is a long-time motorsports photographer from the eastern US. He has mountains of old and current racing photos. Dave has taken a lot of racing photos of my current race cars (see McCabe Racing link at the bottom of this page). For more info, you can reach him at Fastforwardphoto@yahoo.com .
Here (below) are some photos of a Field Trial Special Vehicle. It was built by Ed Hillis (The Guy standing by the car) using his Mini Engine and 2 front Mini Sub frames. The plan was to have two Mini Engines (Twini). But Ed never built the second Engine. So they called it "The Mouse" Later it was renamed "the Mini Mouse" It was very Fast (with FTD Potential). That's Bill James in the third photo pushing wife Judy, who is driving it to get it jumped started. Bill told me that one time, they were running up and down the back roads of Jackson NJ until someone called the cops (due to open exhaust). Ed & Judy did eventually run several events with the car. Then the Mouse was later sold to a French Canadian and was shipped north never to be seen again.Thanks to Bill for these photos and info.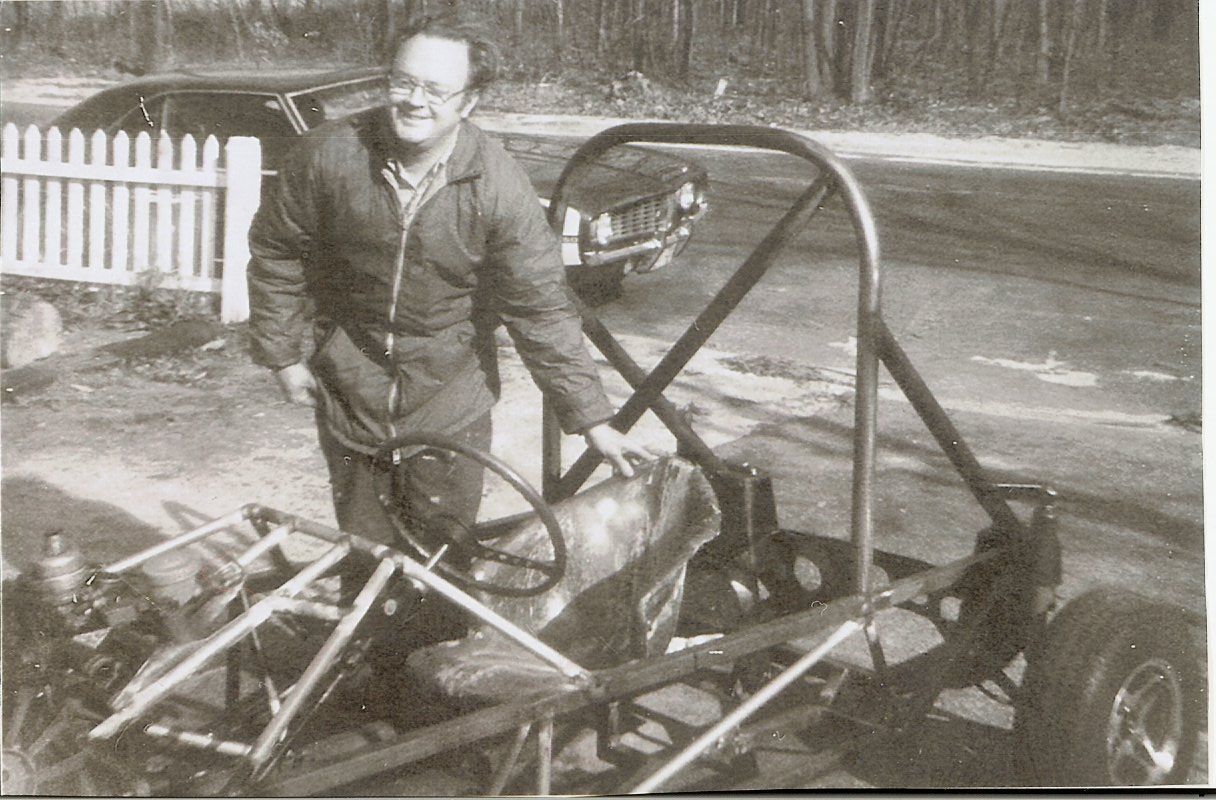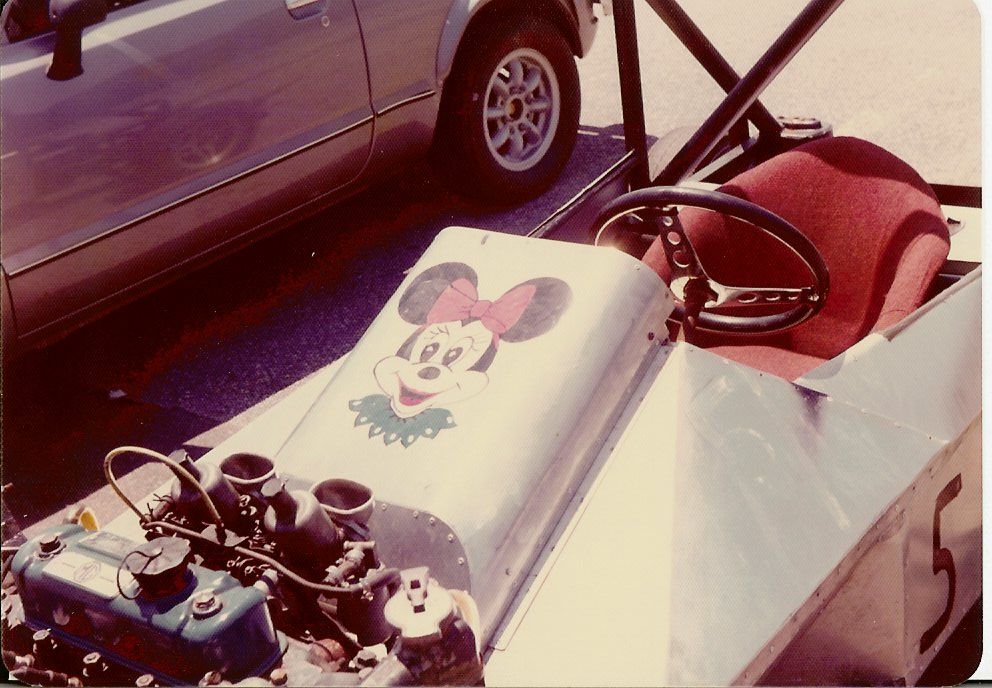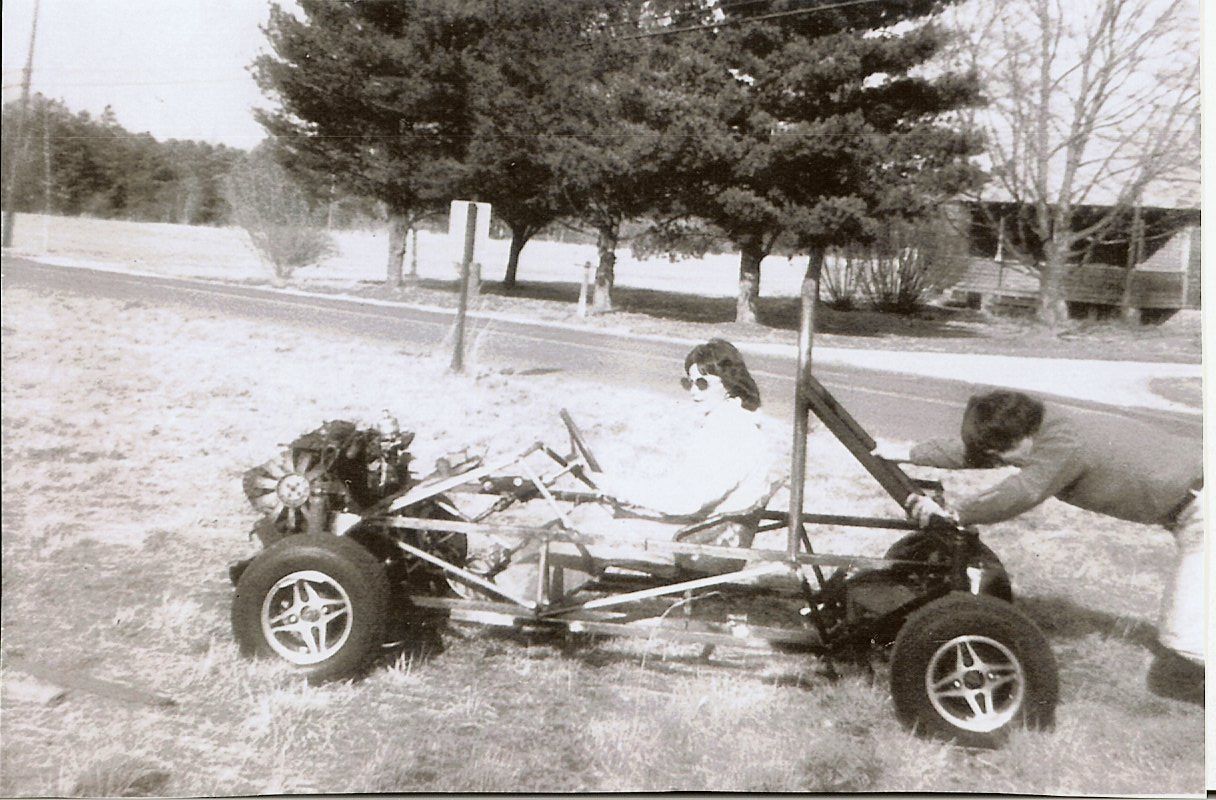 My '67 1275cc Sprite at Neshaminy Mall in Pennsylvania around '69. No helmets required at this autocross. I let my pal Dave Brown drive the car as well (note the two numbers) , since he'd lent me the tires off his Bugeye (note the Bugeye rims). Dave had an XKE roadster and went to Trenton State College before I attended there. He went out with a high school friend of mine. I remember she told me he got expelled from college for going 100 mph on campus. After getting kicked out, he was drafted and got a free vacation to SE Asia for a couple of years. When he got back, his folks had made him sell the Jag and get a much slower Bugeye. I recall he and I used to go to Spreen's and Hank Thorpe's to buy race parts for the Sprites.
Before I did any formal motorsports, I "raced" woods cars. Here's my *first* woods car (next three pictures). An old (1951) Austin A-40. Got it for $20 when I was 15 (1966) and drove it in the woods behind my folk's house. Some days we'd drive it 20 or 30 miles through the NJ Pine Barrens "fire lanes". I had other woods cars including a Renault Daulphine, a Simca, an Autobianchi, a Hillman and a Ford Flatbed truck. Other friends had the following woods cars: SAAB 93B, Lloyd, '57 Rambler stations wagon with 327 V8 and push-button (pink and black!), '58 full size Ford (with a six), flathead Anglia, and even an early Mini. Quite an eclectic group of cars.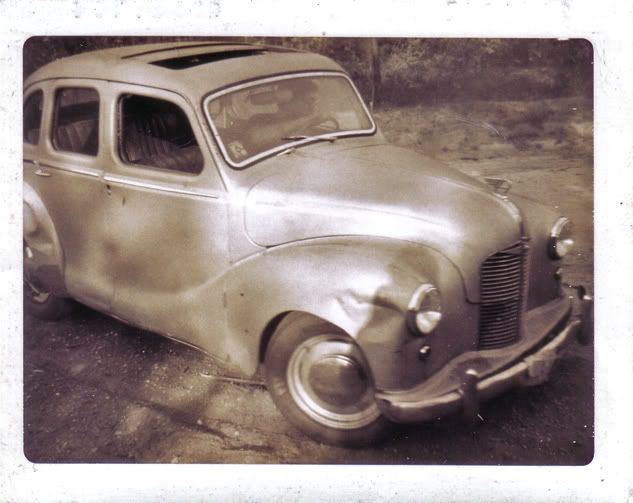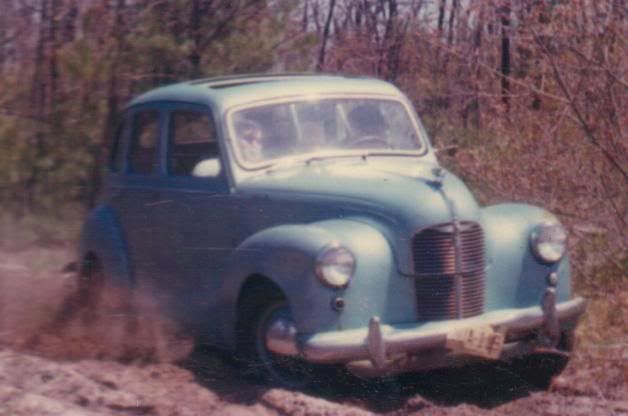 The A40 engine burned a lot of oil (it was a 1200 cc version of the "B" series BMC engine). I was always begging for used oil from my Dad or neighbors (after they did an oil change). The car never got actual "new" oil. One time, we couldn't find any oil so I went searching in my father's shed. I found "oil-based" paint. I figured, "What the heck....better than nothing!". The exhaust smelled awful for quite a while after that. Eventually, the engine spit a rod and piston out through the oil pan. I pulled the pan and cleaned it out as best as I could. Then I re-sealed the oil pan with sheet metal, canvas, self-tap screws, caulk and probably puppy-dogs tails. I disconnected the valves on the dead cylinder. After that, it was a "triple" instead of a "four". It leaked more than ever, so I would put an old bucket under it to catch the dripping oil.....and then pour it back in. I still have the rod that escaped from that engine. It's a paper-weight on my desk.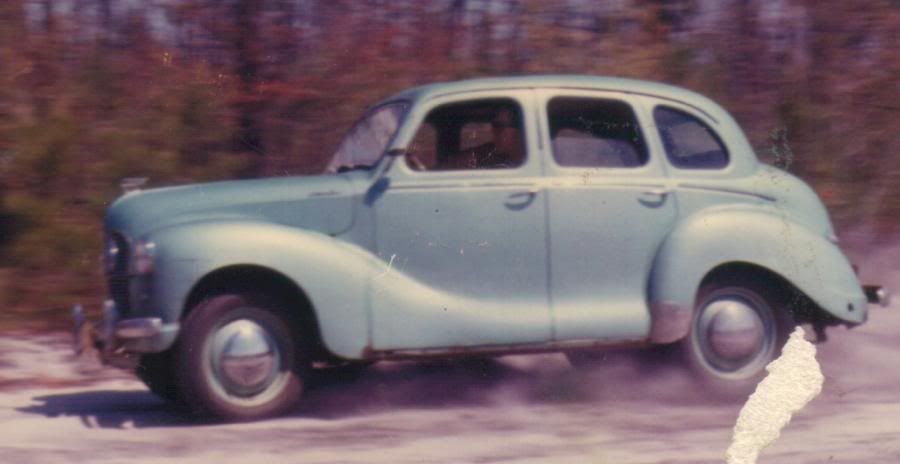 Here's that A40 rod..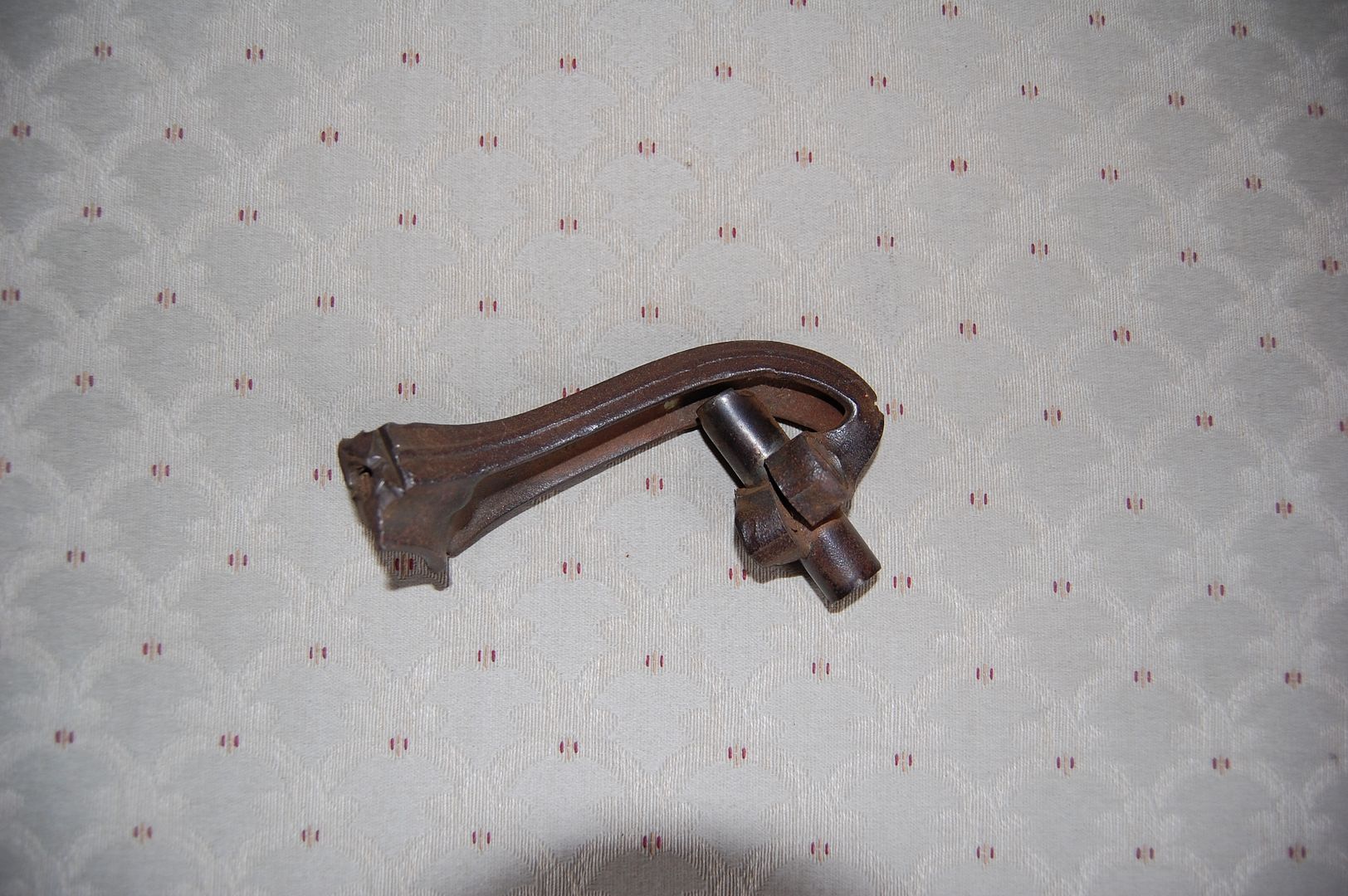 An EMRA Datsun 510 running hard at Bridghampton in the early '70s (next two photos thanks to Bill Giltzow).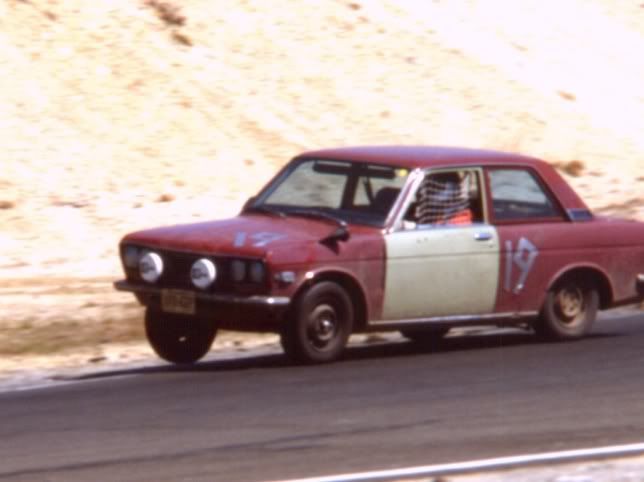 The Dave Panas Triumph in an autocross.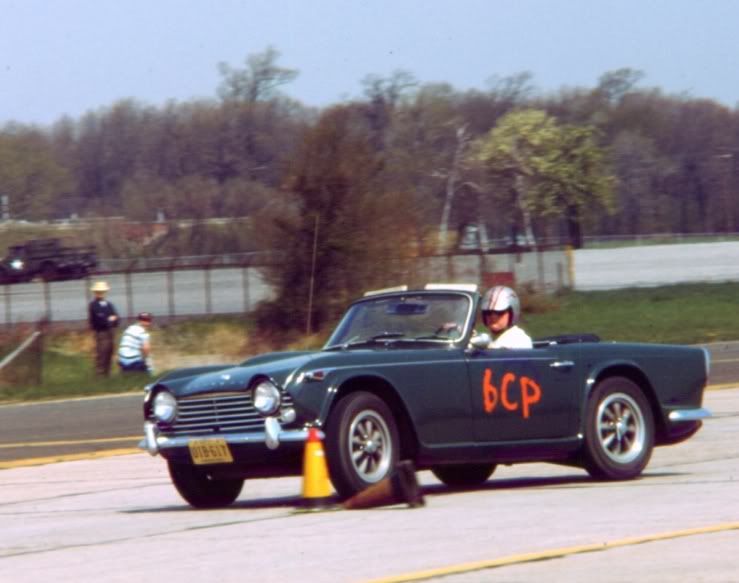 Two Minis at New Egypt Speedway. The grey, primer job in the background was originally called the "Screaming Yellow Zonker", although I never saw it when it was yellow. When this photo was taken, it had been re-named to "Sparkle Plenty".....for some reason. The blue Mini in the foreground was owned by Bill and Judy James.
Bill James recounted the following story to me: If you look at the picture closely you will see that the left-front fender on Bill and Judy's car was damaged. Also someone had painted "JUDY!" on the fender. The story of that day was they were in Western PA at a Hill Climb. Judy had crashed the Mini. Since she was also running the NJ Trials series, Bill banged out the fender and they drove all night to get back to NJ for the Trial.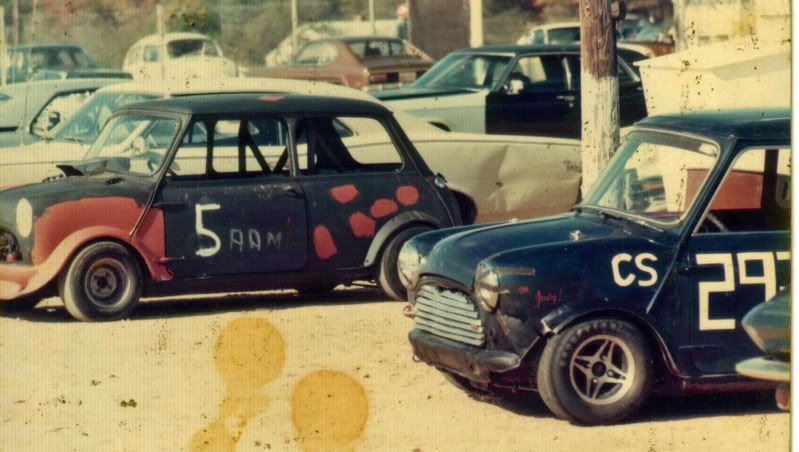 Another photo of the James' Mini (credit-Bill James)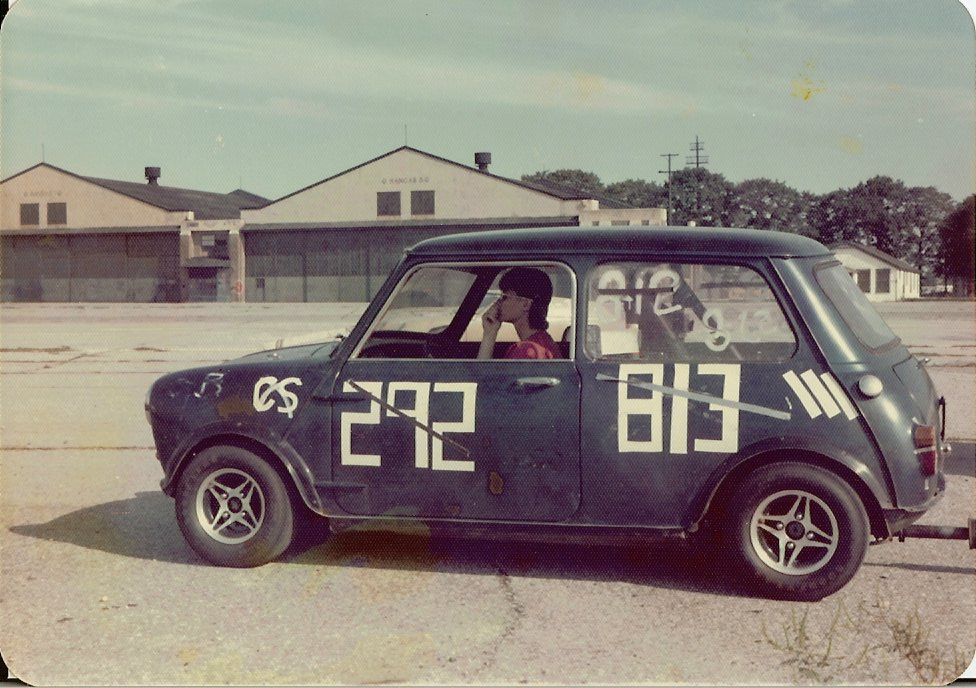 New Egypt Speedway-MGA Special-early 1970s. A fast "special"....we used to see a lot of home-brew cars like this. I had previously listed the owner of this car, but found I was in error; does anyone recognize this car or know who the owner was?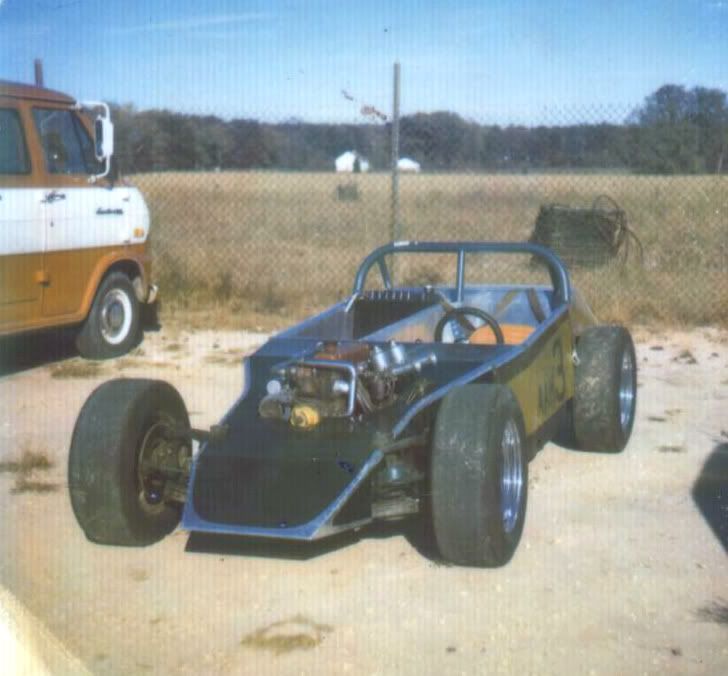 New Egypt Speedway - MGA Special and an Elan. Other cool stuff in the background.-early 1970s.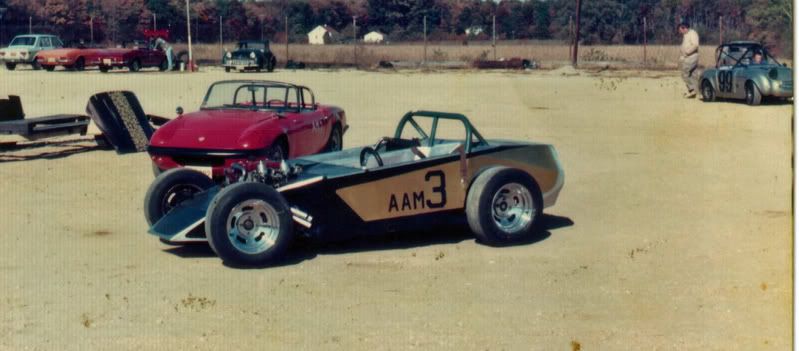 New Egypt Speedway MGA Special-right side-early 1970s.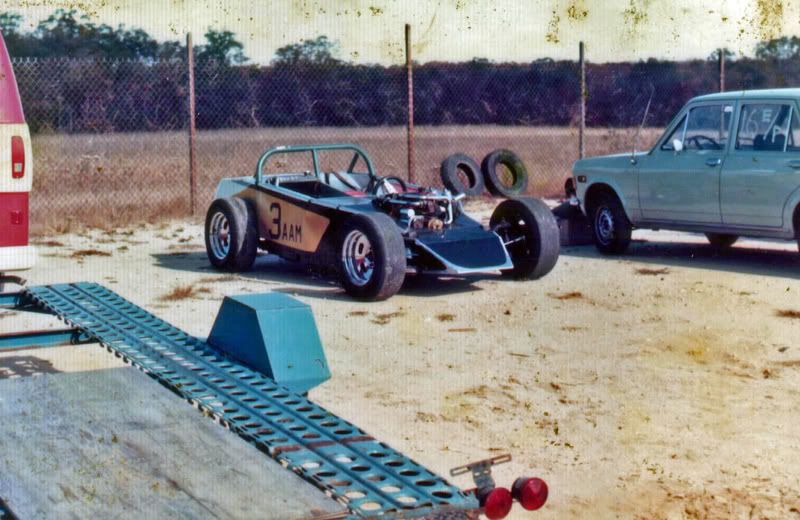 Photos below show the Ray Worth Memorial Team Trophy. The Trophy was awarded every Labor Day at the Flying Burros Field Trials Event at Fort Dix/McGuire Air Force Base. It was a awarded based lowest combined times of three drivers. The Trophy which came in a wood case was kept a year and returned so that it could be presented to the winners of the following year. The drivers then received smaller individual trophies. Judy James was on the Team that won it in 1974. Thanks to Bill James for this info and the photos.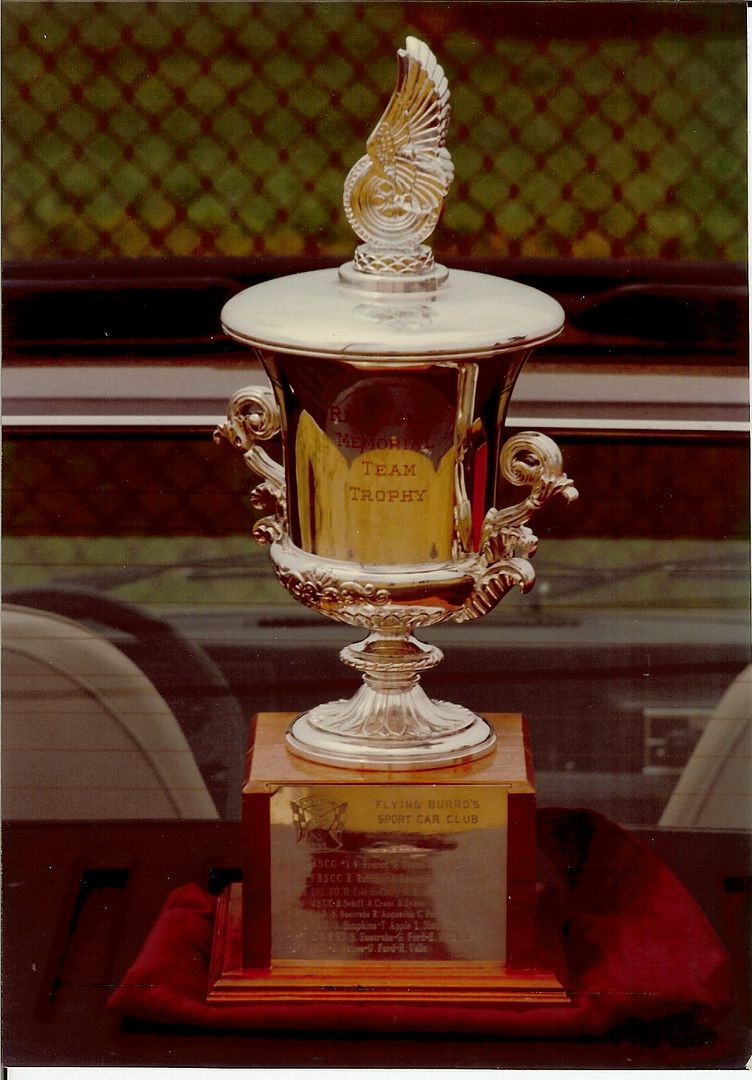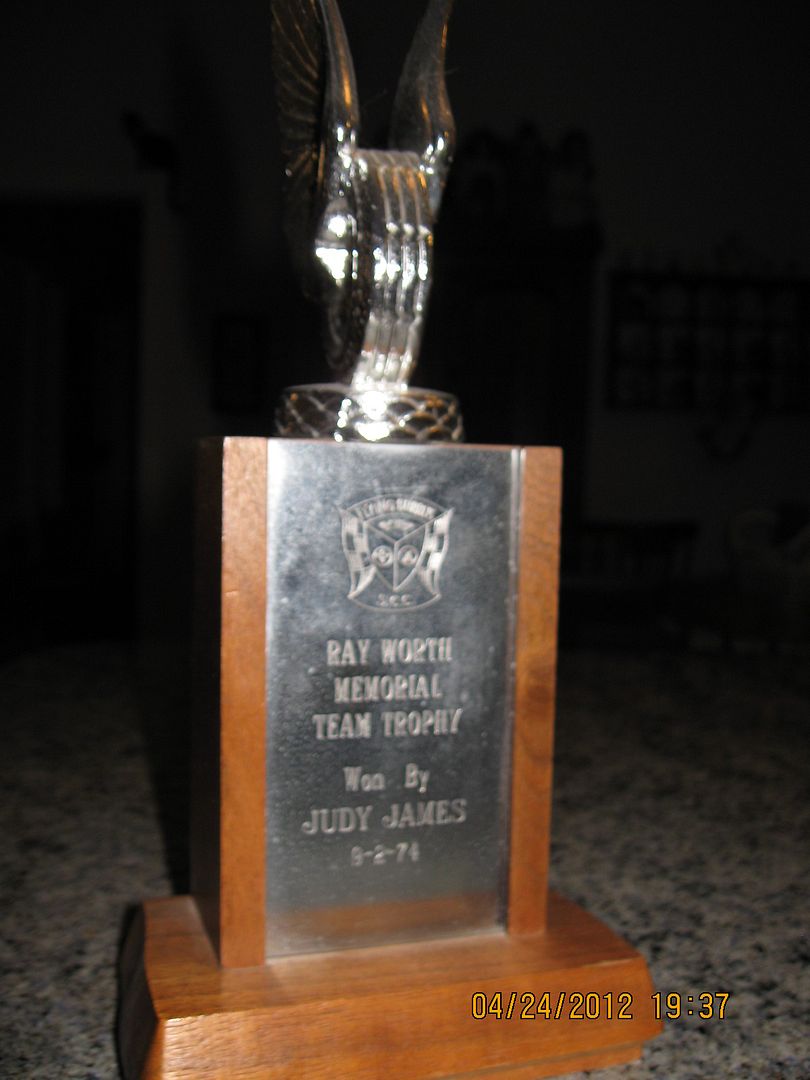 This is Fred Zebroski's Seven. Around '73. It often posted the FTD at our events. Fast! I saw it in his garage languishing almost 10 years later.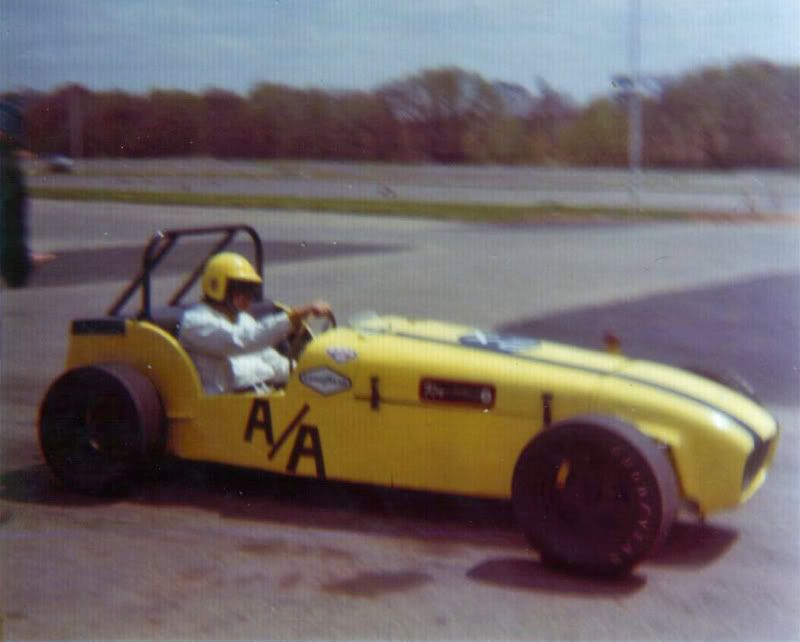 Bugeye-New Egypt Speedway-early 1970s.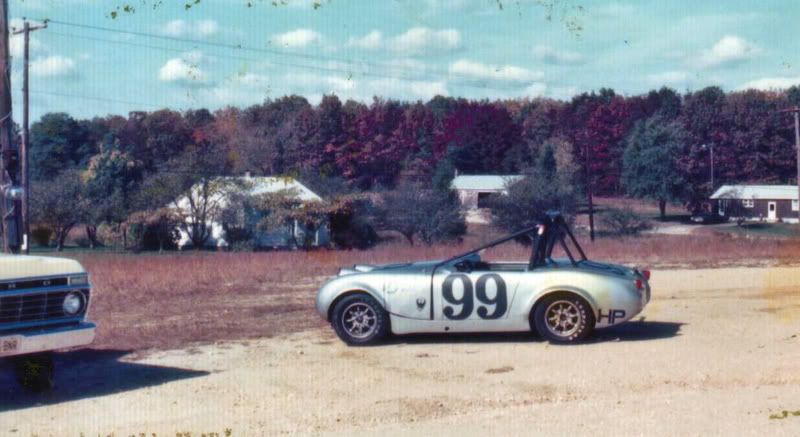 This small mouth TR3 belonged to a gal named Susan Suscreba. It is believed that she still has this car. Before she owned it, a guy named Gene Pepe owned it. Thanks to Bill Giltzow for this info. Taken at New Egypt Speedway.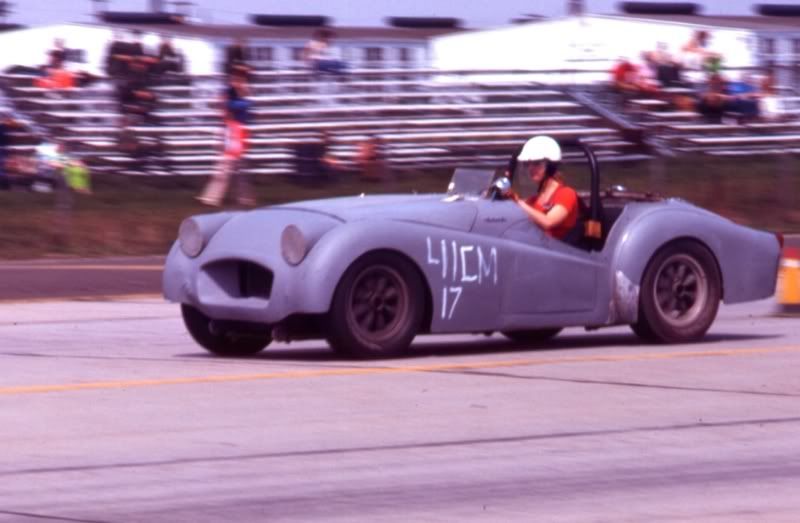 Another Susan Suscreba TR-3 (after painting, I guess).Also thanks to Bill Giltzow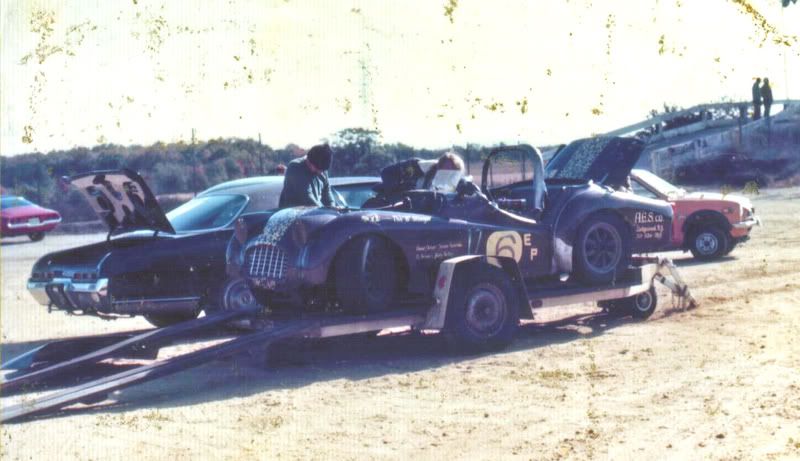 VW "Masonite car" at New Egypt Speedway. This was a VW floorpan with an entire body made from Masonite! The steering "bump" was made from a toy ball.The two kids in the background are my high school students.-early 1970s.
VW Masonite car at New Egypt Speedway-early 1970s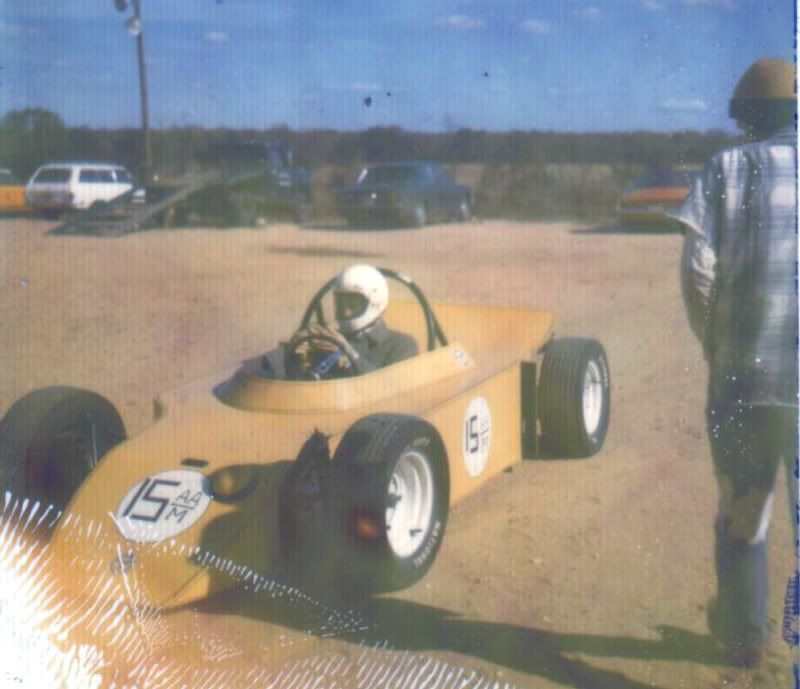 VW Masonite car rear suspension.
Nice street Mini at New Egypt Speedway.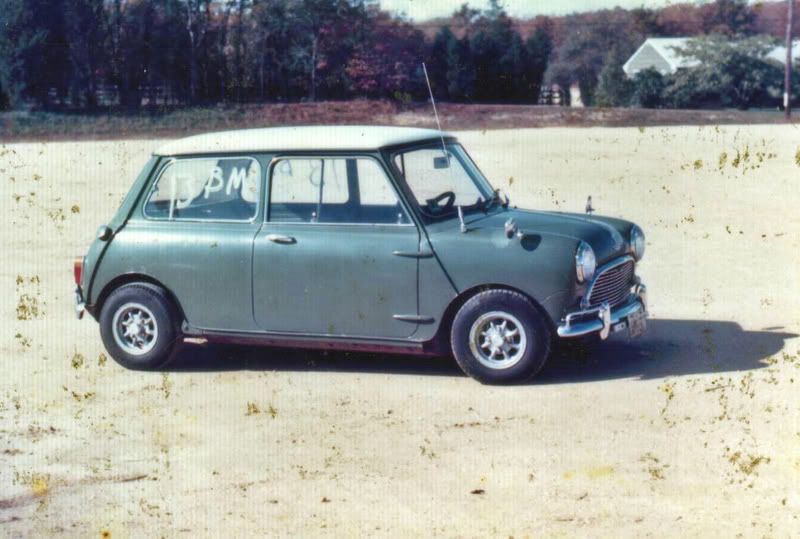 The "Screaming Yellow Zonker" at New Egypt Speedway (seen above too). That's what most people called this car because it was formerly yellow. The owner had re-named it "Sparkle Plenty" (which it didn't, due to the flat primer paint) A joke, I guess.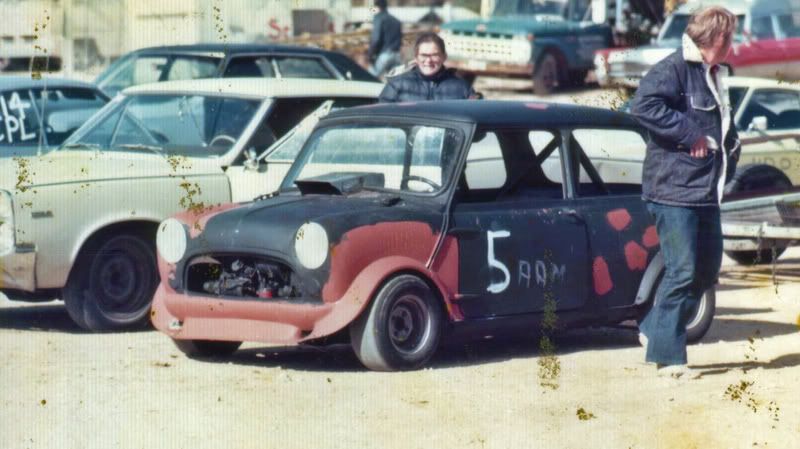 The Screaming Yellow Zonker at New Egypt Speedway.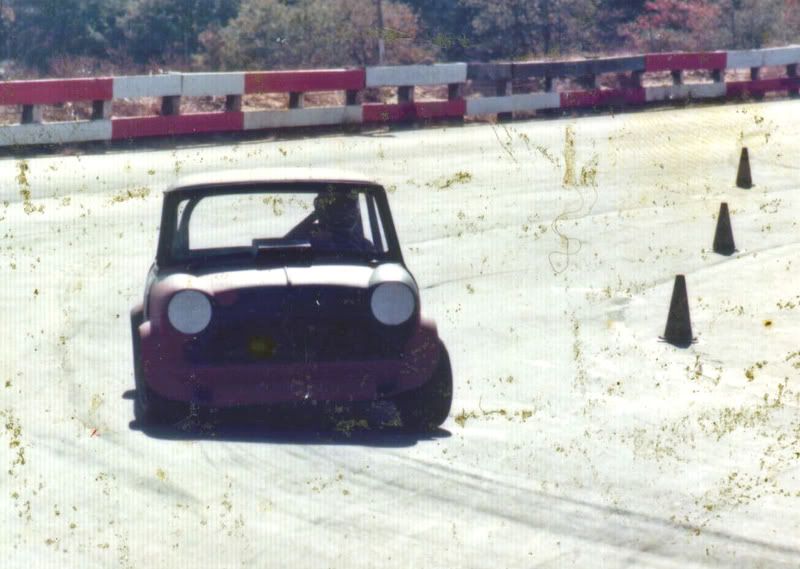 Parking lot of New Egypt Speedway from the grandstands-early 1970s.
The West Essex High School (WESSEX) Formula Vee at New Egypt Speedway-early 1970s. I was the auto shop teacher at West Essex. That's me in the car and the guy standing is Rich Mahoney, a college friend and shop-teacher from another school. This project is an example of what you can do at schools if you DO NOT ask permission. I bet you could still get away with this too. You just have to tell the admins you're building a fuel-economy, "experimental vehicle" or something like that.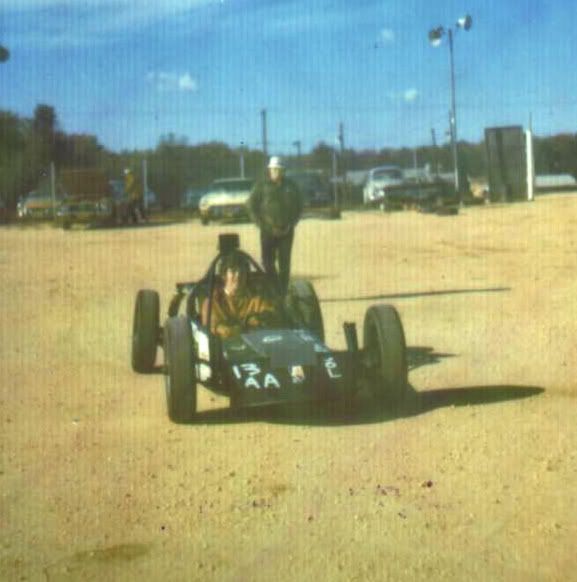 Two Bugeyes at New Egypt Speedway autocross event around '69 (mine's on the left). The Bug on the right was owned by a girl who used to run against me in the Modified Class. Once, she borrowed my bumper so she could run in the Stock Class. I don't think I ever got it back.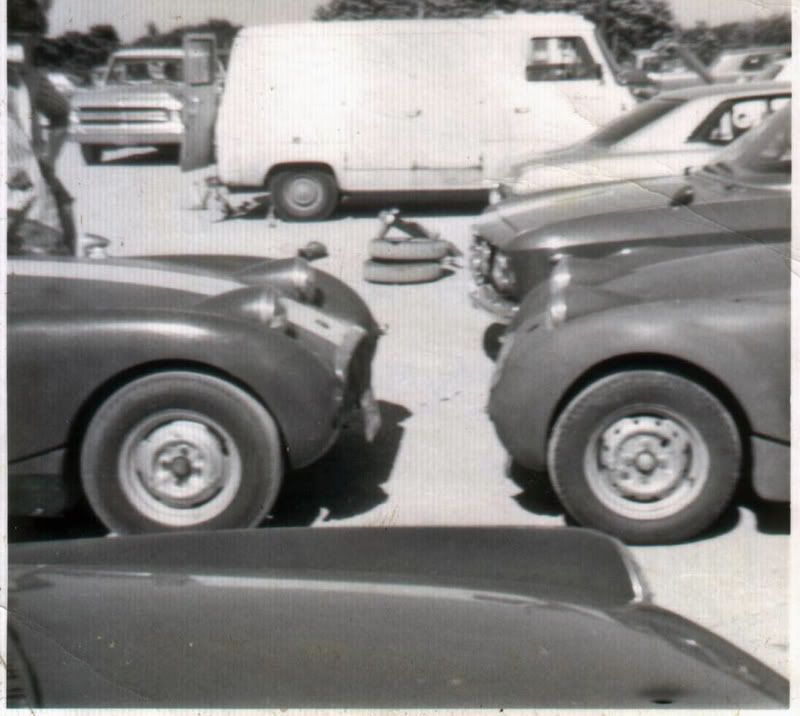 Charlie Seymour's ALFA 1300 GT Junior-New Egypt Speedway.He was my college roomate.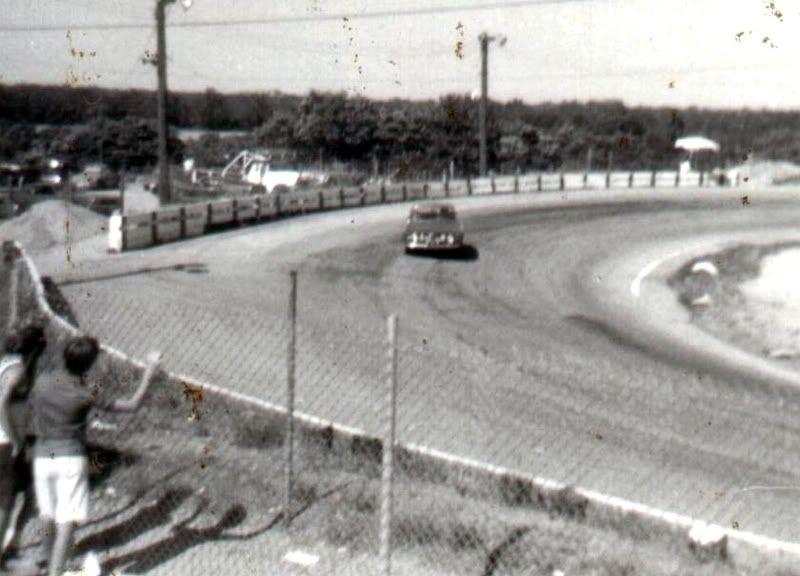 McGuire AFB-Flying Burros Sports Car Club-1969. Sorry for the crappy picture...I PhotoShopped it as much as I could to clean it up. That's Warren Pound at left. He had gotten drafted and went to Alaska to do some radar stuff in some God-forsaken part of the world, I think he'd just gotten out and bought a brand new Celica. His Dad was a cool guy and owned a BMW 2002 TII. I bought a Honda 305 Scrambler from his little brother later on. The guy on the right was my college roomate. We ran our first race (at Bridghampton) together.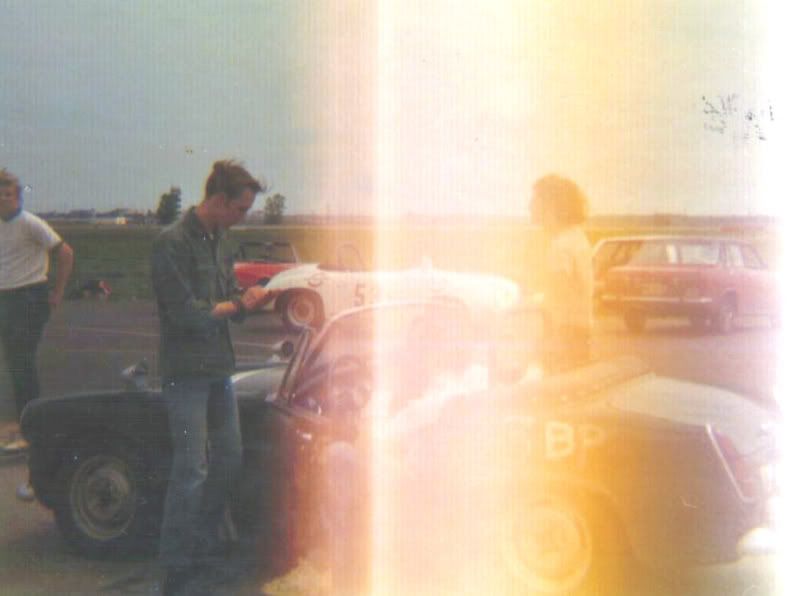 "Spiffy-105" (named from the license plates) at Bucks County Community College (PA). These days I teach in a college. A few months ago I met the president of Bucks County Community College and he asked me if I had ever been to their campus. "Umm.yes.....but quite a while back" I said.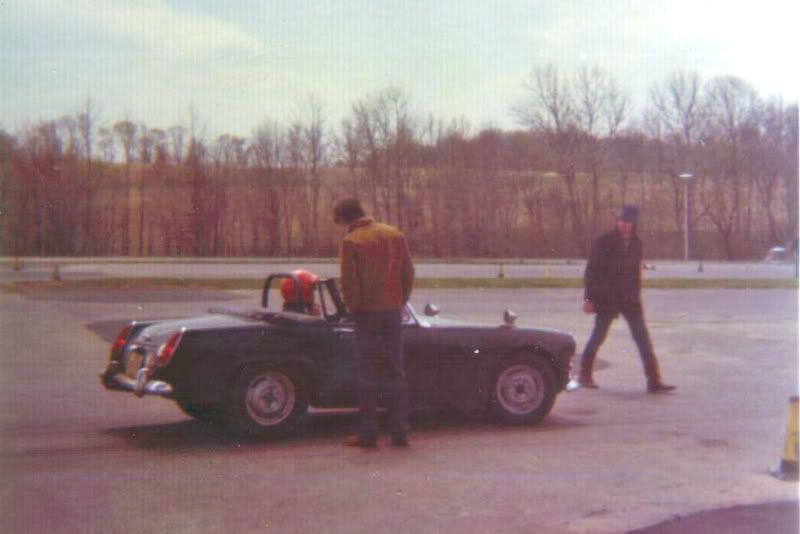 Me in the Bugeye at McGuire AFB autocross. The local club (all Air Force guys) was called The Flying Burros Sports Car Club.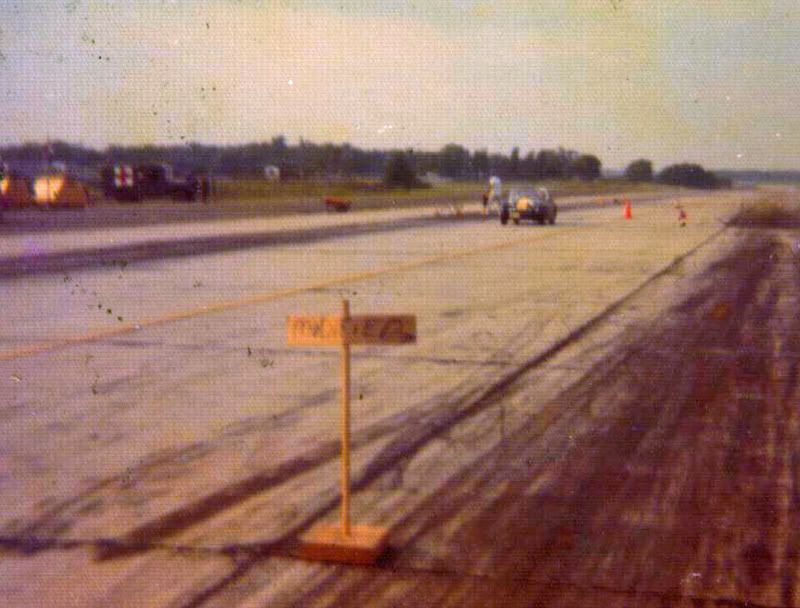 My 948 Bugeye at New Egypt Speedway-early 1970s.The engine ran OK but was "loose" and burned lots of oil....plus had only about 10 psi of oil pressure. One time I put some Harley-Davidson 60W motor oil in it. The smoking stopped and the oil pressure went up.....but it overheated and would barely go 50 mph. Back to regular oil after that.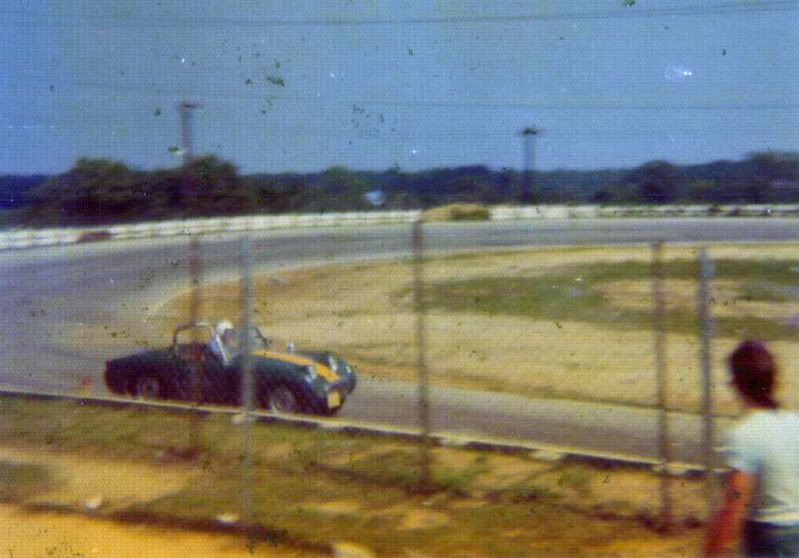 Warren Pound's brand-new, rear-wheel-drive, first-gen Toyota Celica at New Egypt Speedway-early 1970s-later got a Ford V8 in it.
I went to a Lime Rock Trans Am race riding in the back seat of this thing. My legs still hurt just thinking about it.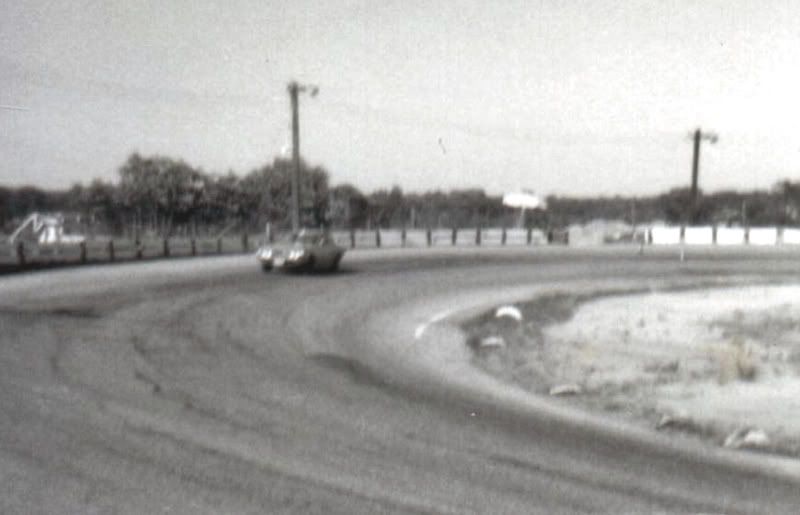 Charlie Seymour's ALFA GT 1300 Jr. at New Egypt Speedway-early 1970s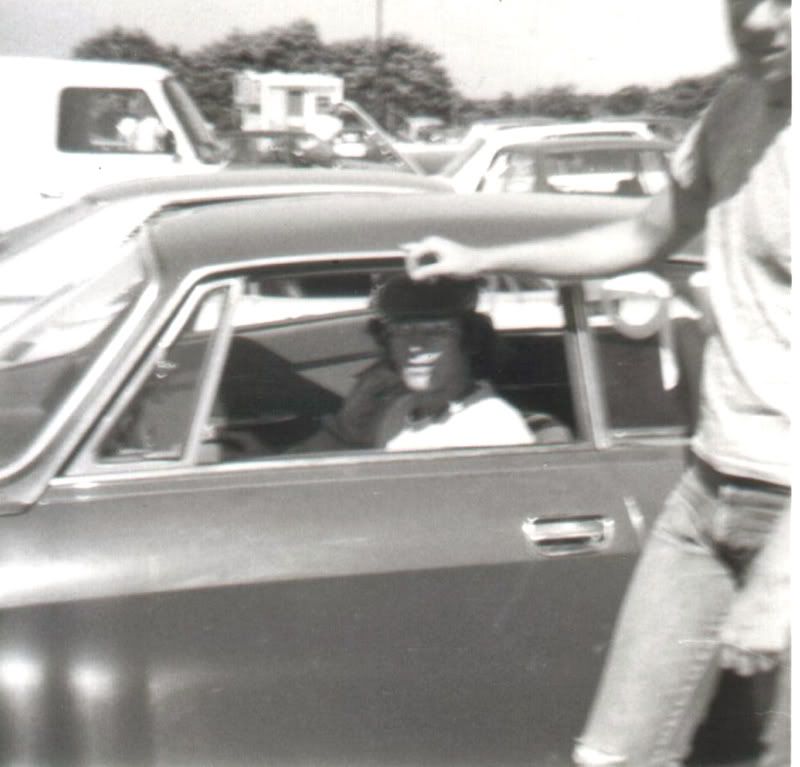 Charlie Seymour's red 1098 Sprite at an autocross at Bucks County Community College. Later on he gave me the roll bar from this car and I put it in the 948 Red-Rat Midget I built in 2012..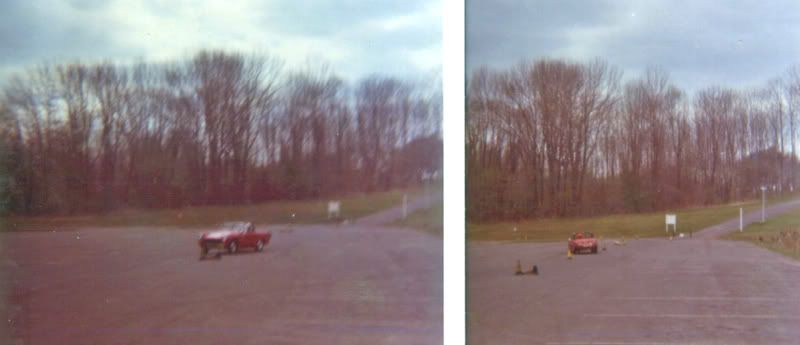 I always used to think this guy with the Seven was an "old guy". In this picture, he's probably about as old as I am now. According to Bill James, this is Ed Marshall Sr, an engineer from (I think) Montclair, NJ).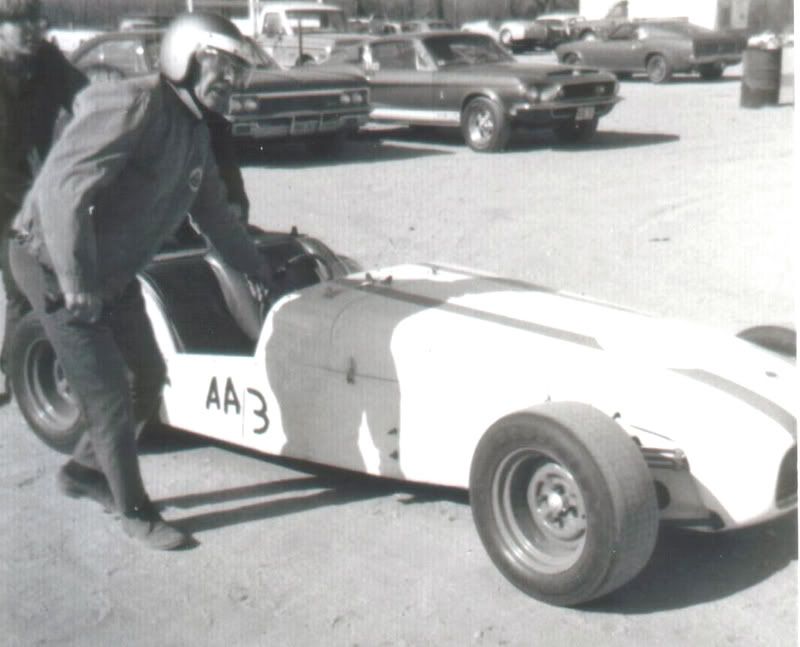 Me with the Sprite 948 Mk 1 at New Egypt around '69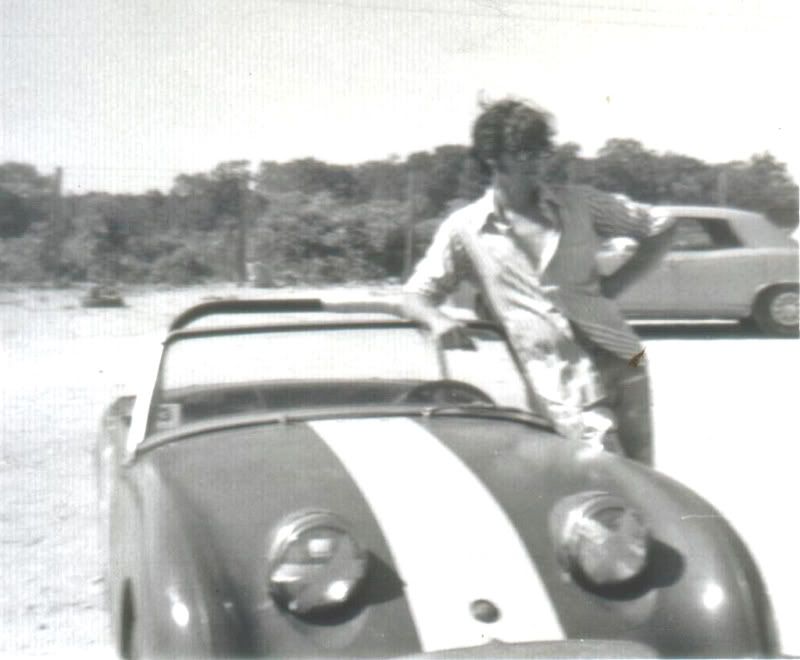 Me in the 1275 Sprite at Bucks County Community College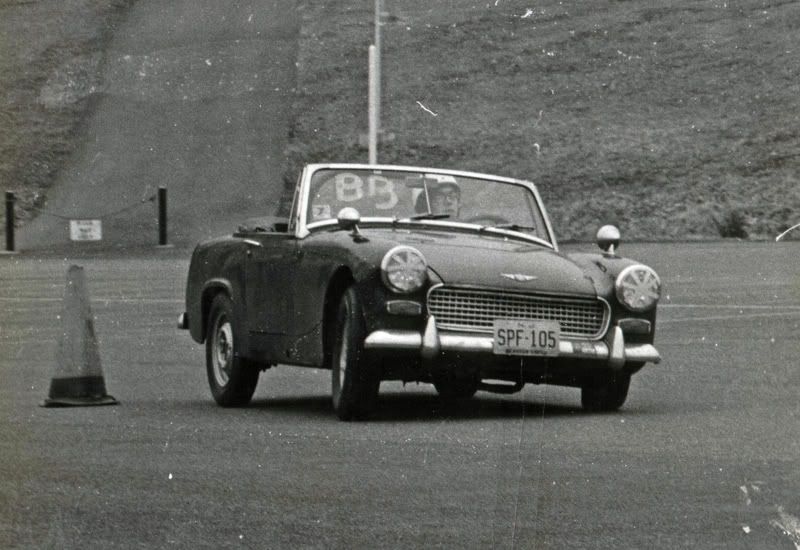 This is the WESSEX Formula Vee (Mk 1) at New Egypt Speedway. We ran it at Wall Stadium too. It had an old-style, 36 HP VW engine. Rear suspension involved Chevy truck springs with "helper springs" clamped around them to take the weight of the car. Frame was moslty old plumbing pipe (used) from the local junkyard. Some pieces of square steel "tube" were make from welding old bed frame angle iron together. "Header" was made from cut up chair legs we hysted from classrooms. I think we had to sacrifice about 10 chairs to make it. Well worth it!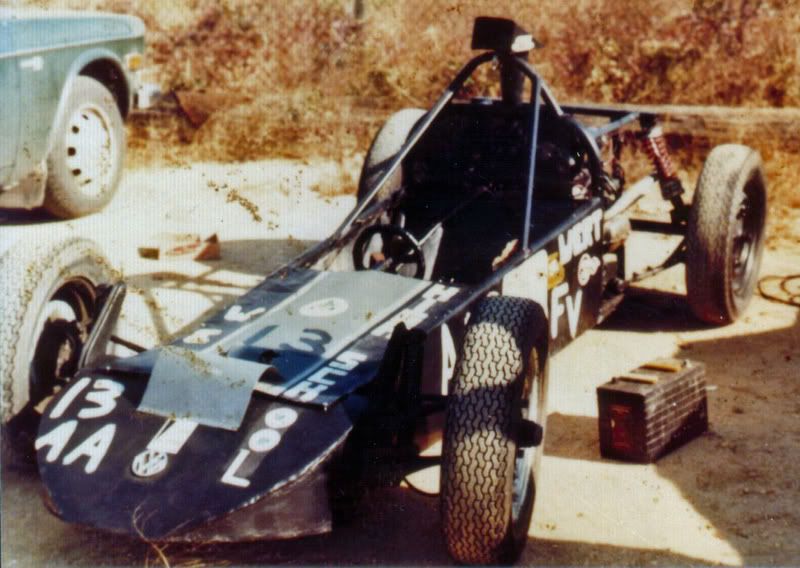 Here's the Formula Vee when we first got it going (outside West Essex High). That's my yellow 1275 Austin America street car on the right. Eventually, the engine from that ended up in an old Mini.
WESSEX Formula Vee on our cheesy home brew trailer. Since I couldn't let all the kids work on the Vee, I had the less-skilled ones build this trailer.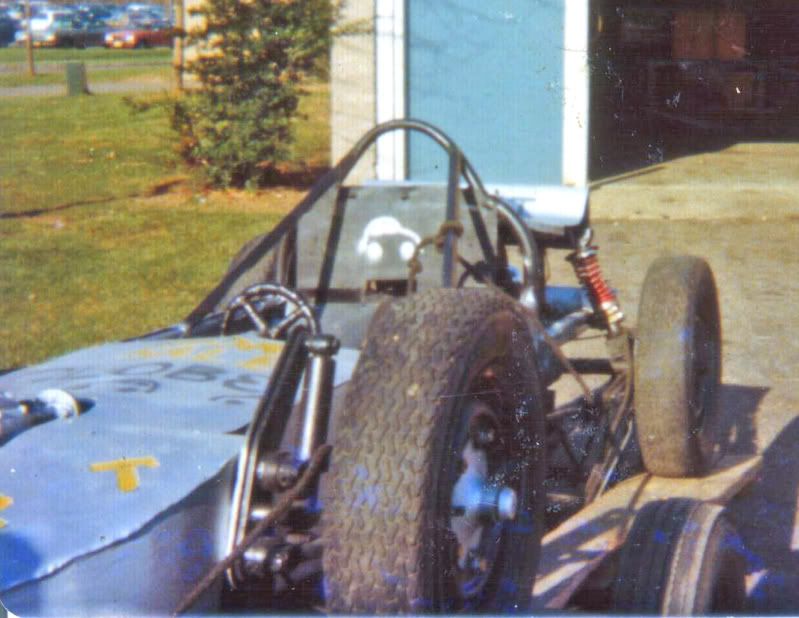 A similar shot (with my Mini in the background)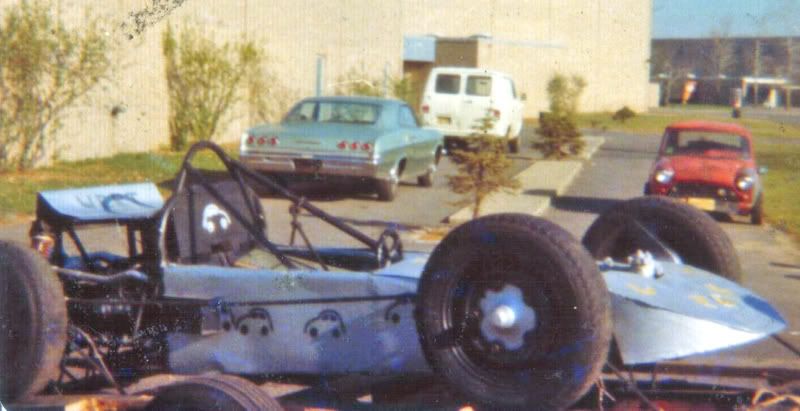 This is an action shot of the West Essex Formula Vee at Wall Stadium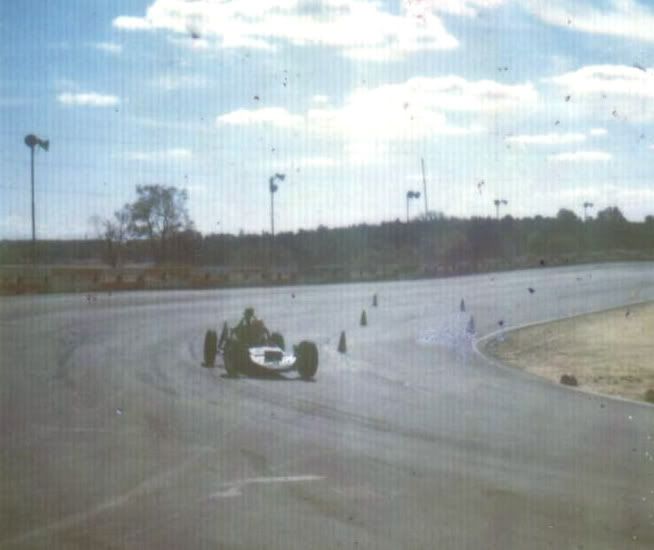 Here's the WESSEX Vee at Wall Stadium (I think)....around '73 or '74.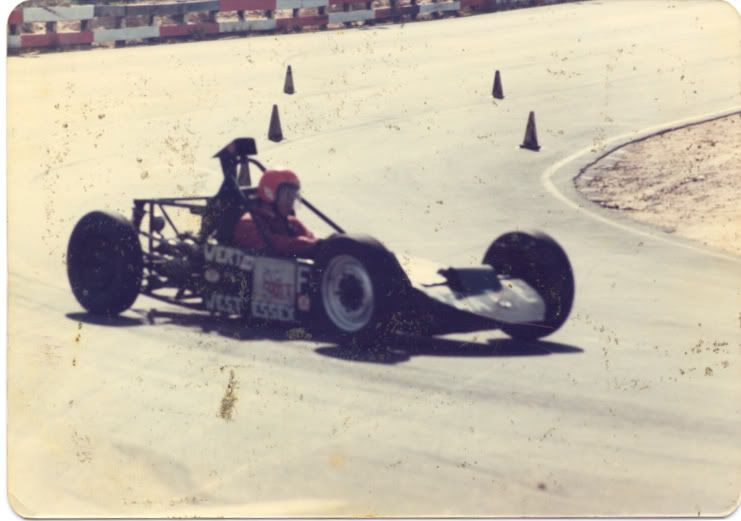 Testing the WESSEX Formula Vee Mk 1 (with it's original round nose) on the WESSEX campus. Later, we bashed it into a curb and built a crappy, pointy nose. This is probably Jack Piel driving it.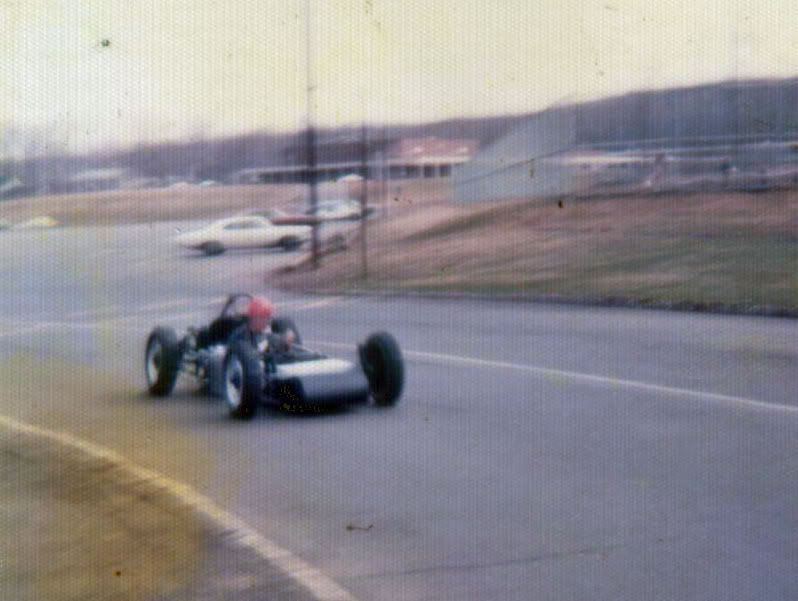 Me testing the Vee on the West Essex High School grounds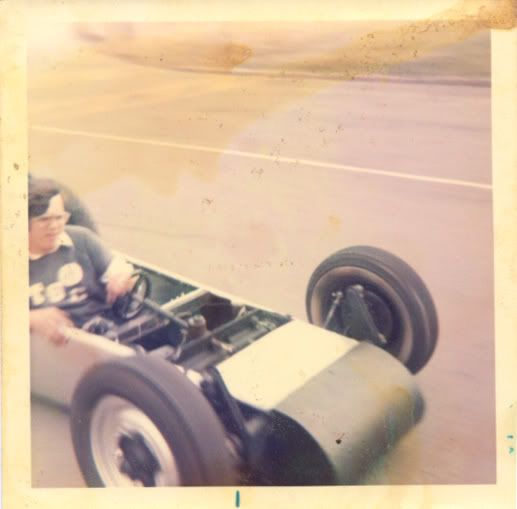 Testing the Mk 1 WESSEX Formula Vee behind Globe VW dealer in Fairfield, NJ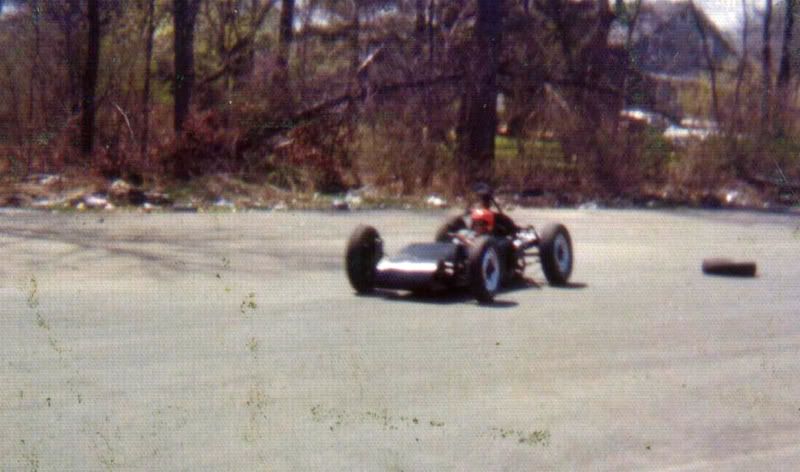 This was our WESSEX Mk 2 Formula Vee. We sold the FV Mk.1 and used the cash to buy real, used coil-over shocks (from a Dulon FF) and outdated FV race tires. We made the entire car from nice, 1" steel tube and it had a healthy, 1200 cc, 40 HP VW engine. We killed off more chairs to make another "header".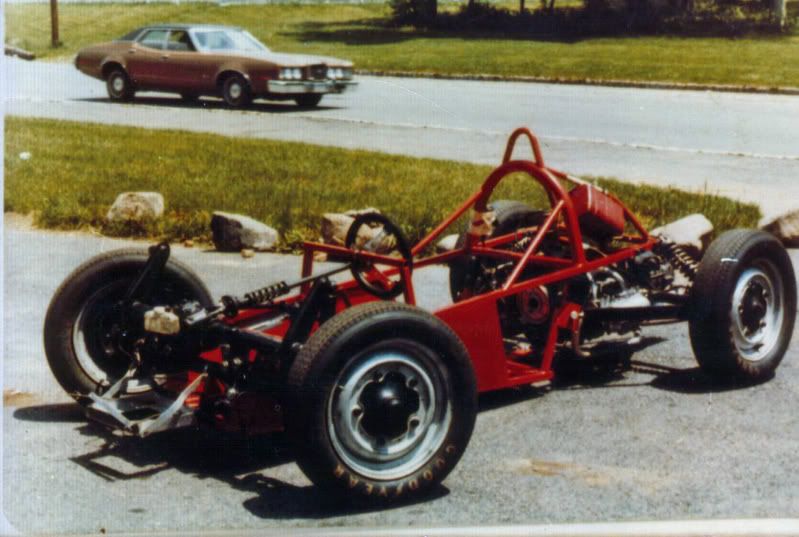 One of my kids (John Z.) driving it around the parking lot. The kid standing to the right (Marty) owned a 302 Pinto (and later, he built up a nice X1/9)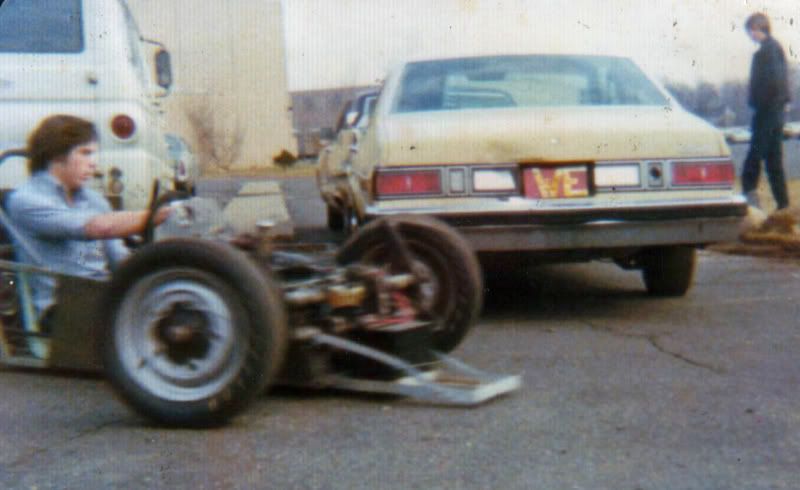 Here's a "Lotus Seven" clone my high school students built in the late '70s. It had a pushrod Toyota four with four speed trans and solid axles. Front suspension was VW beam axle (re-drilled with Toyota pattern). Frame rails were 2" X 4" steel tube. It ran but we sold it semi-unfinished to work on other projects.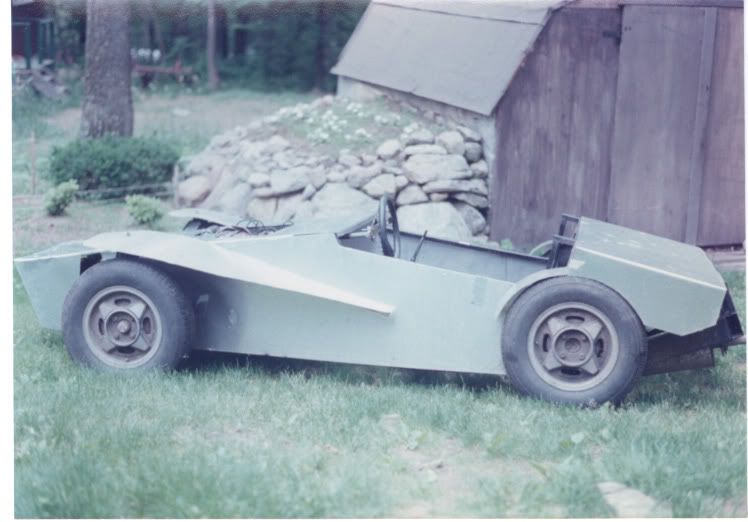 Individual pages of field trials champions / NJ-1971 from the program for the 1971 Trial Champions given out at the awards dinner that year. Thanks to Bill James for scanning these.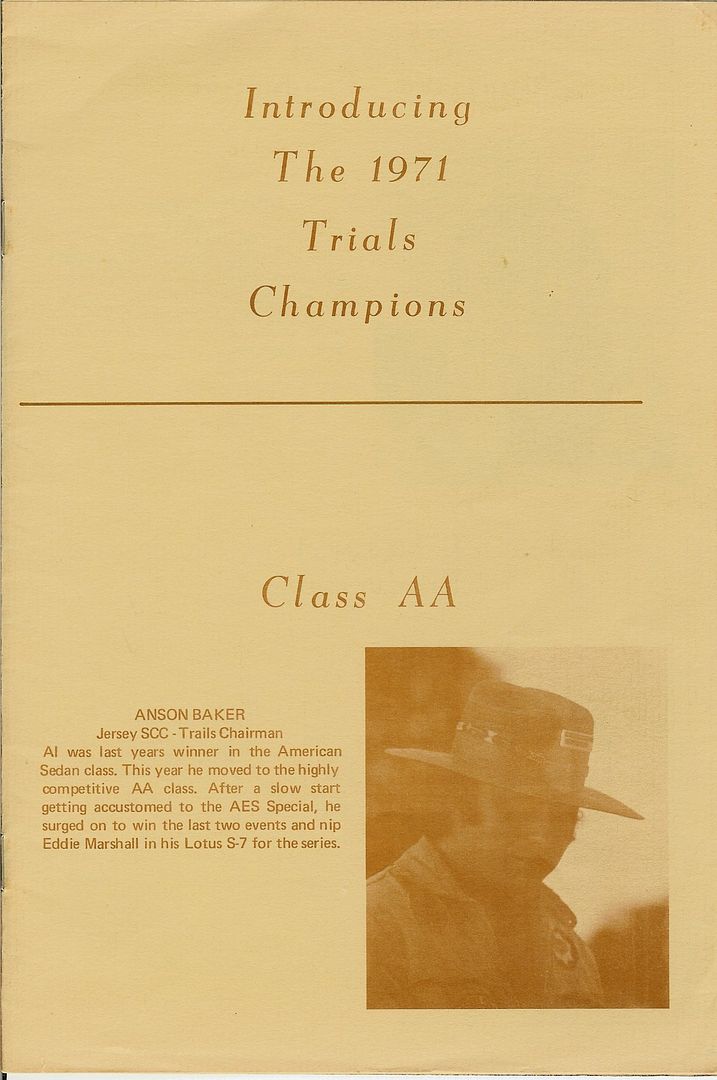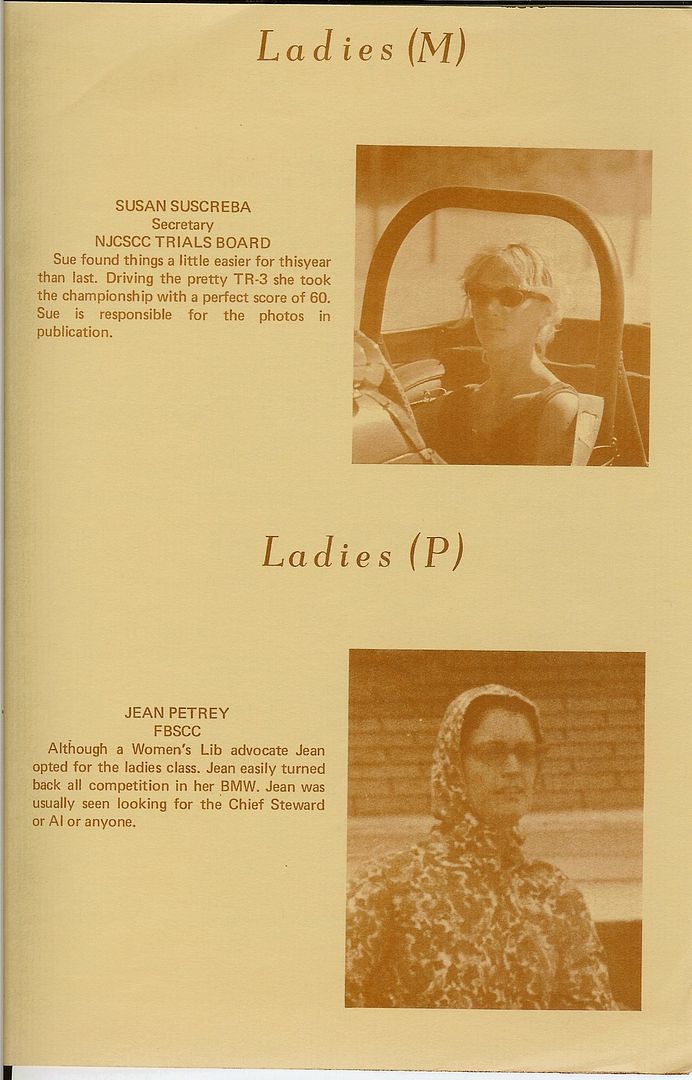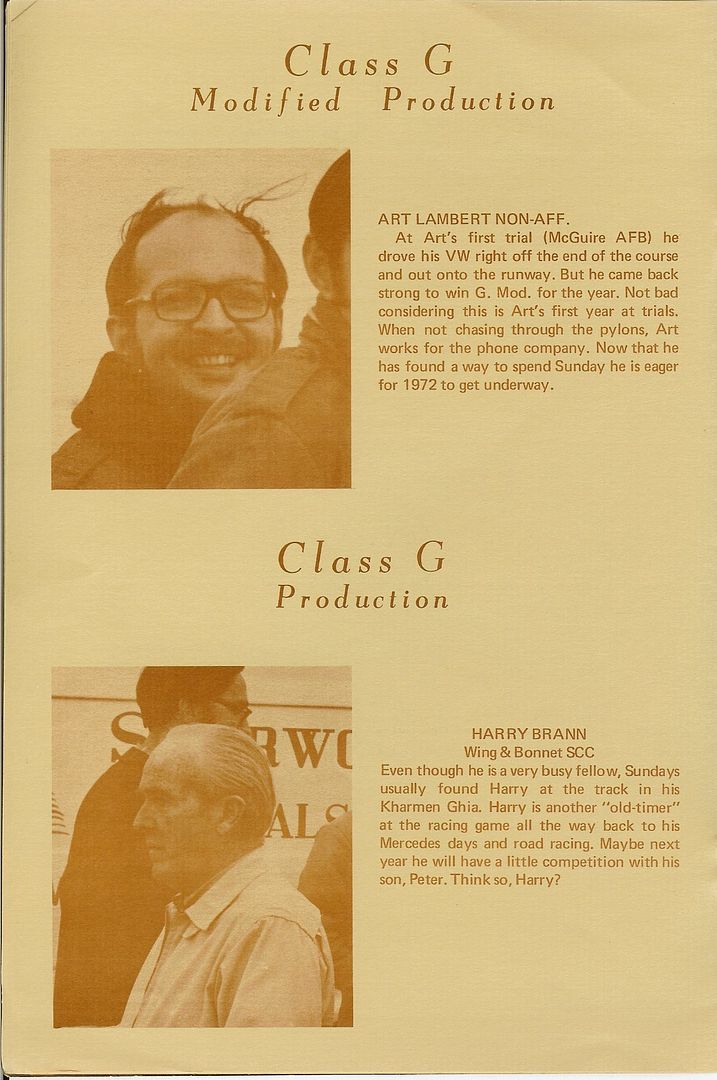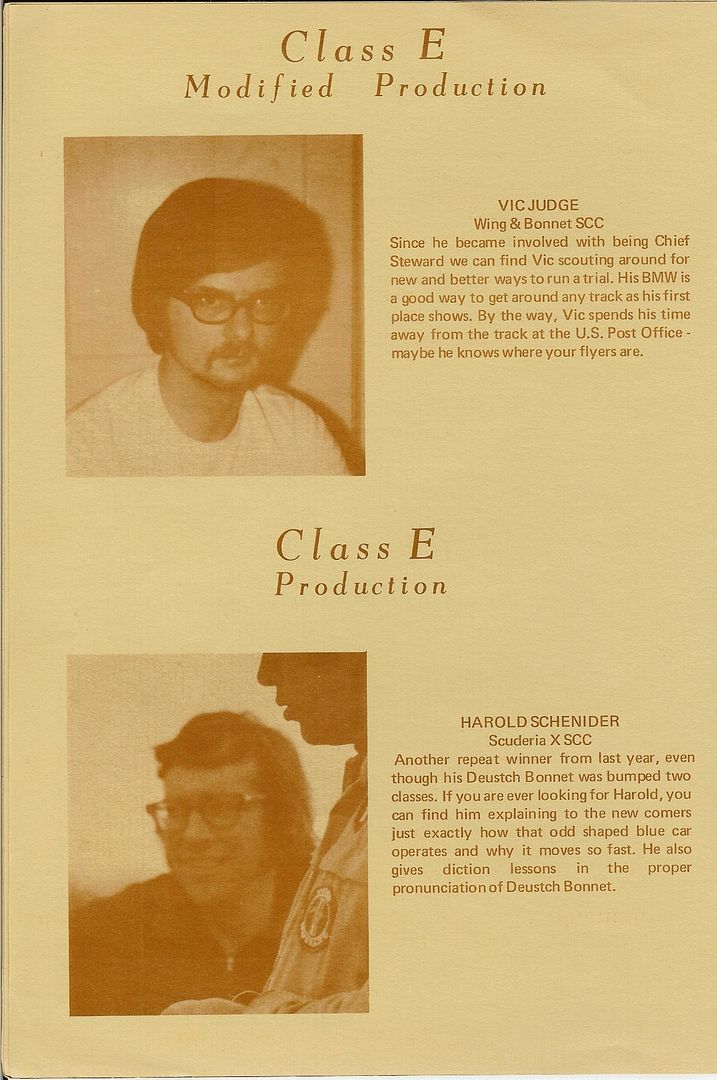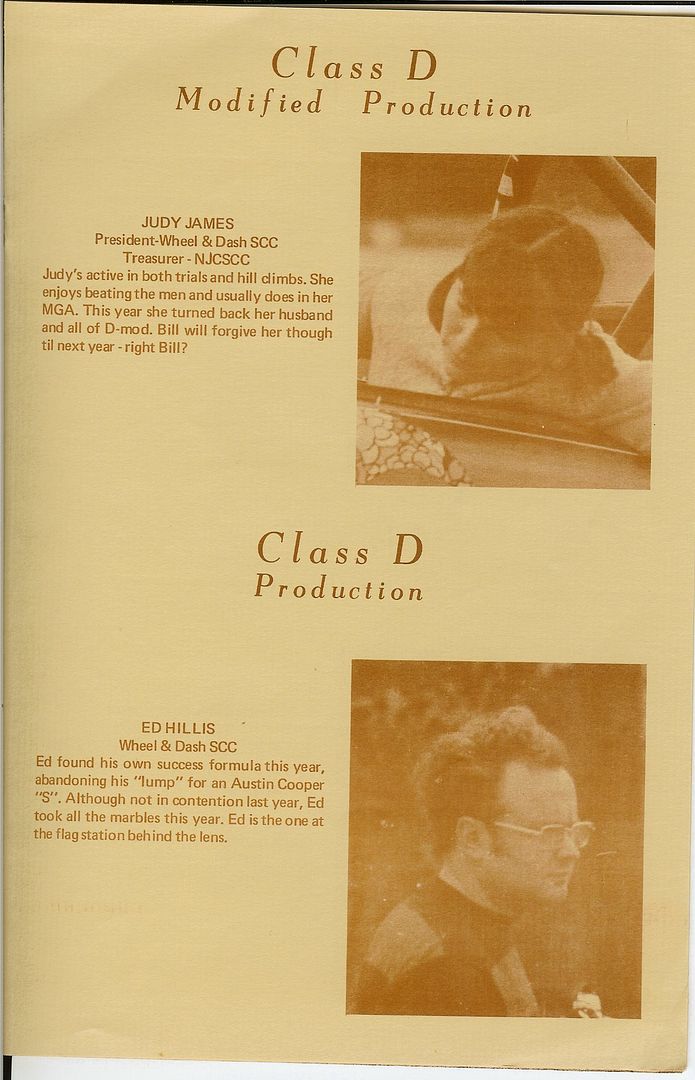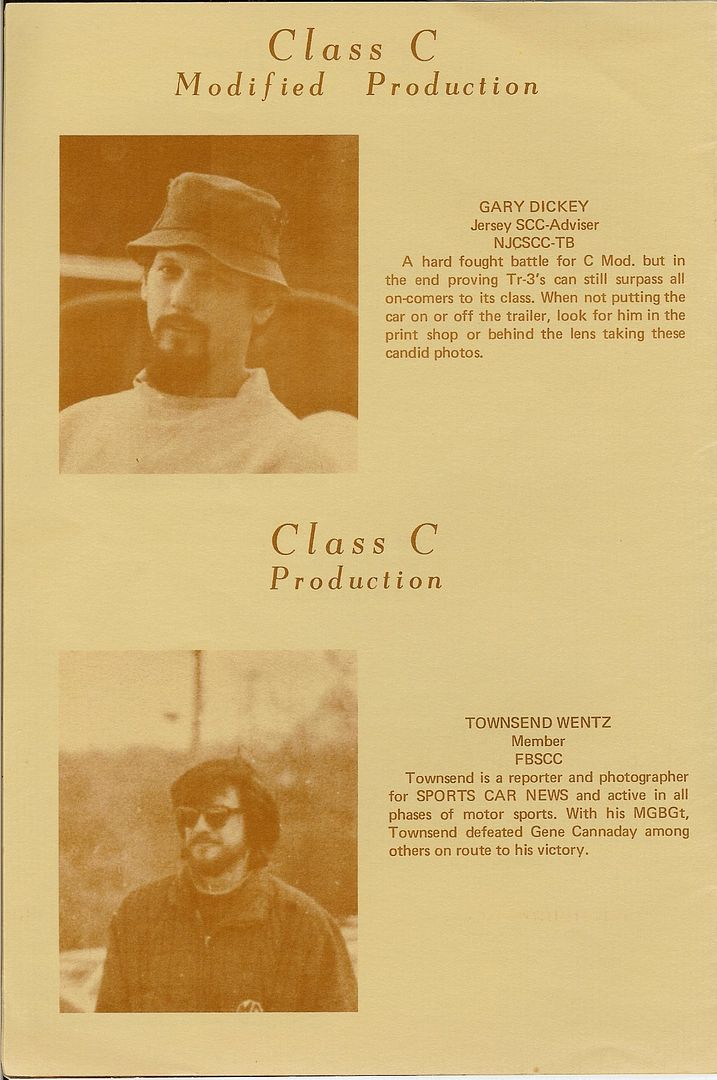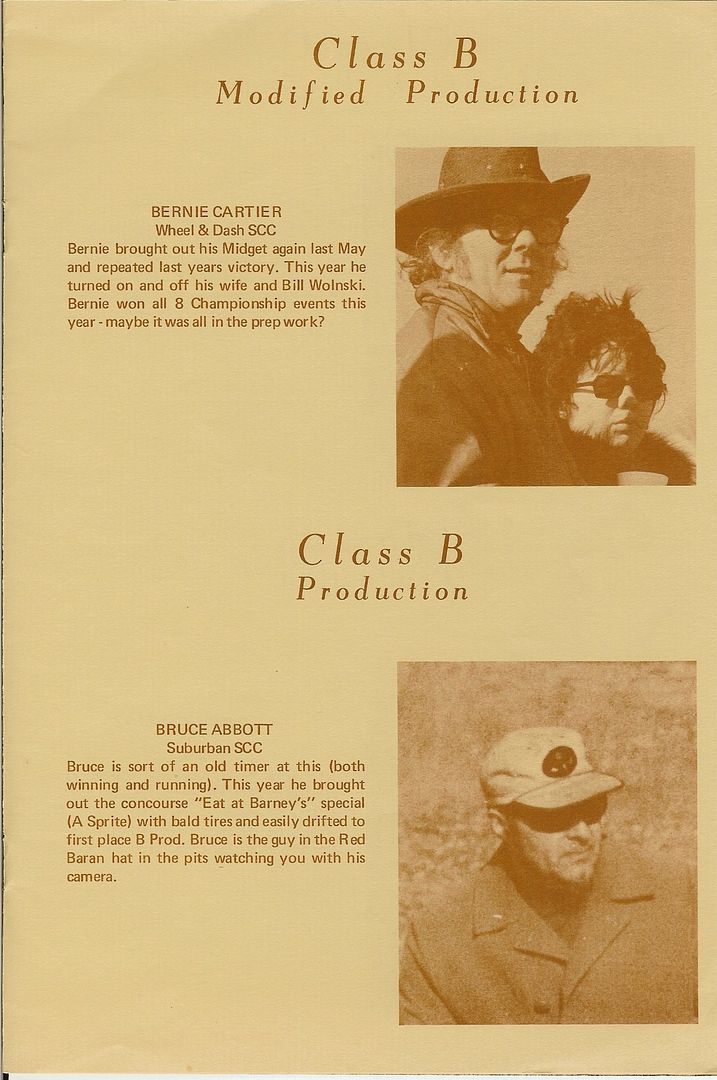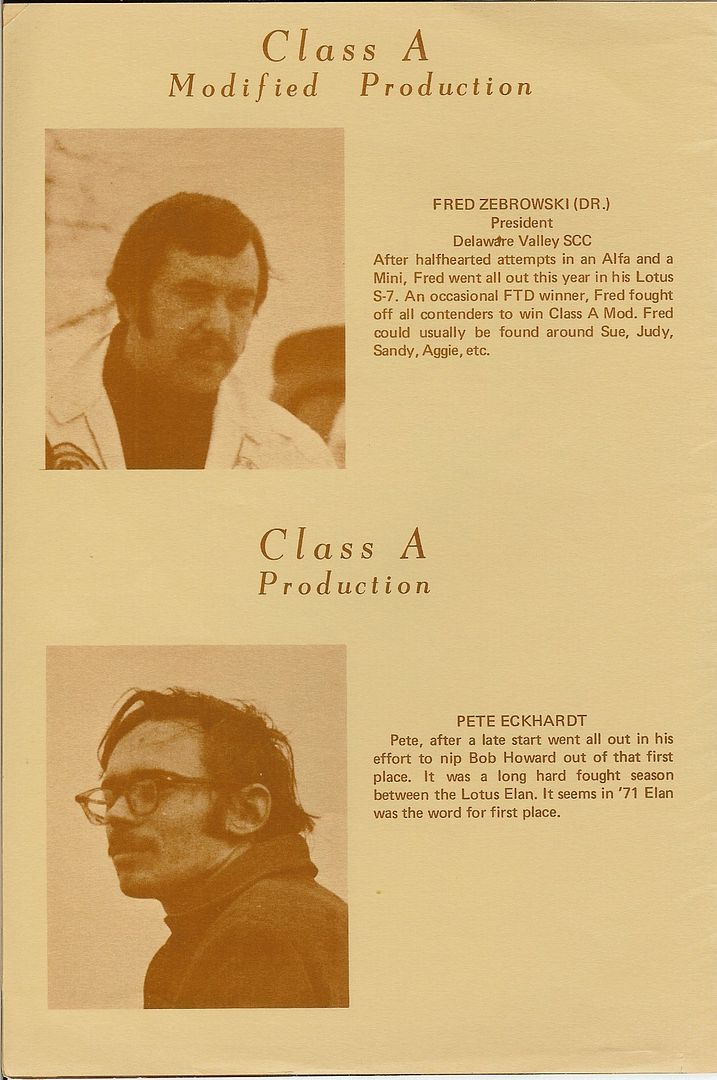 List of field trials champions / NJ-1971 - two pages followed by a photo-collage of the champions. (recognize any of these folks?). Thanks to Bill James for scanning these.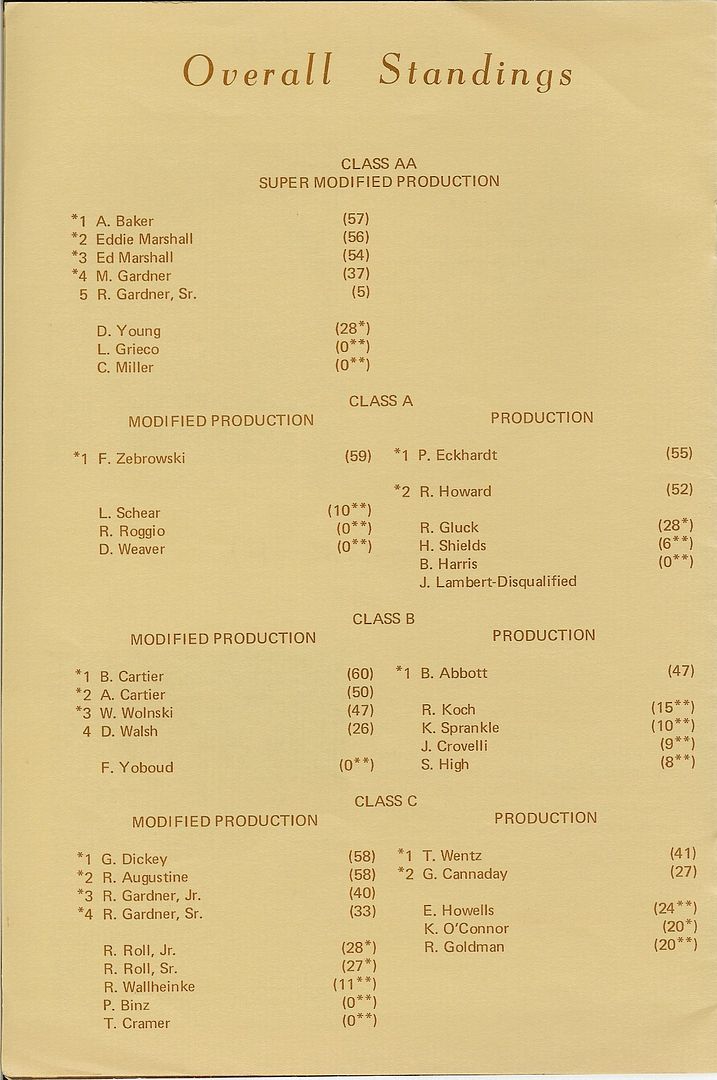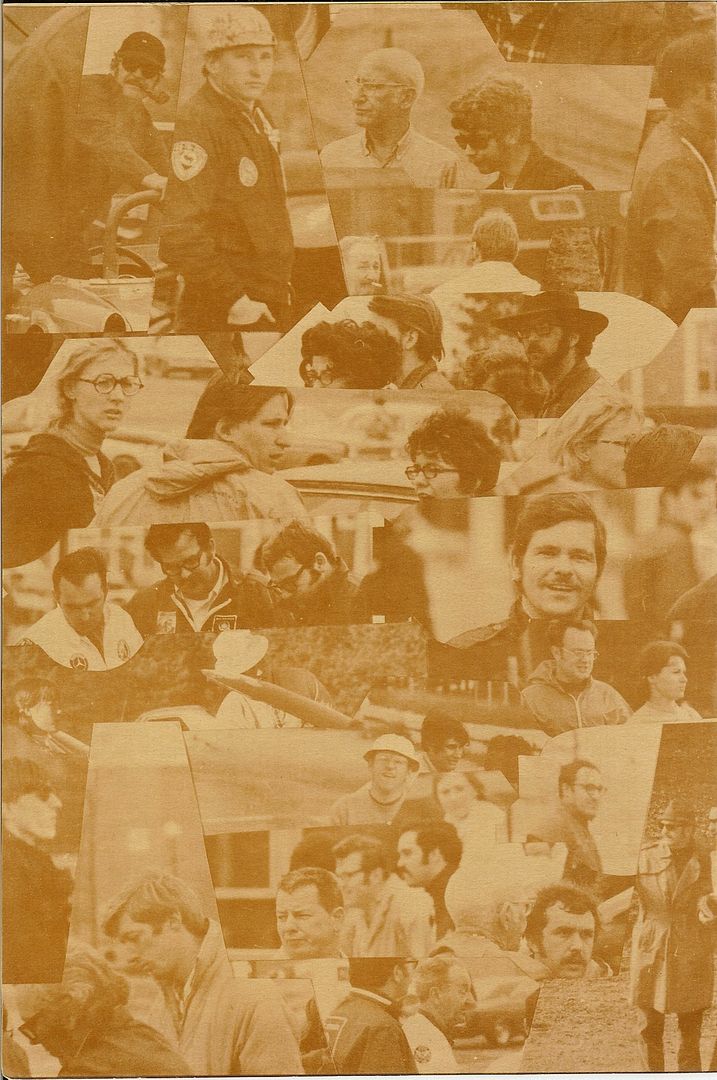 This Volvo 122S belonged to my best pal, Joe. We're still good buds, but he lives in Florida these days. He gave me the two, big SU carbs off this thing and I still have one (I put the other one on a Plymouth Cricket in 1974). We drove this thing to Lime Rock, Watkins Glen, and Bridgehampton. I liked it and bought a P1800 later on myself.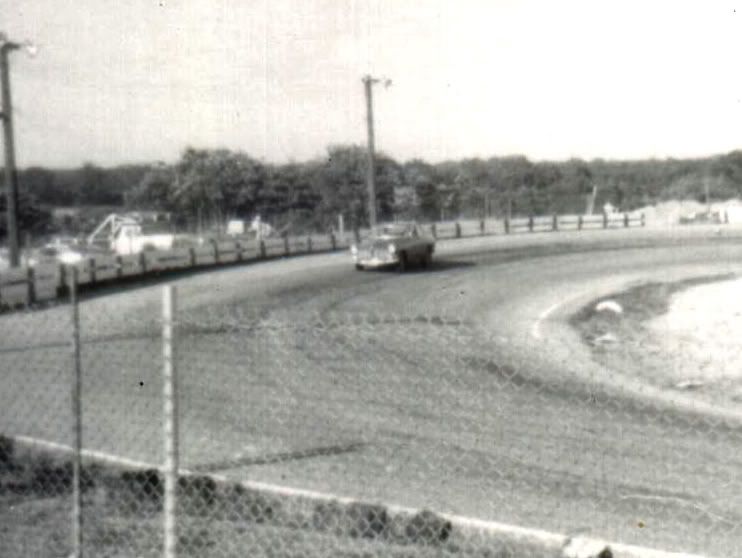 Me doing something on "Spiffy 105" (see license plate) around '70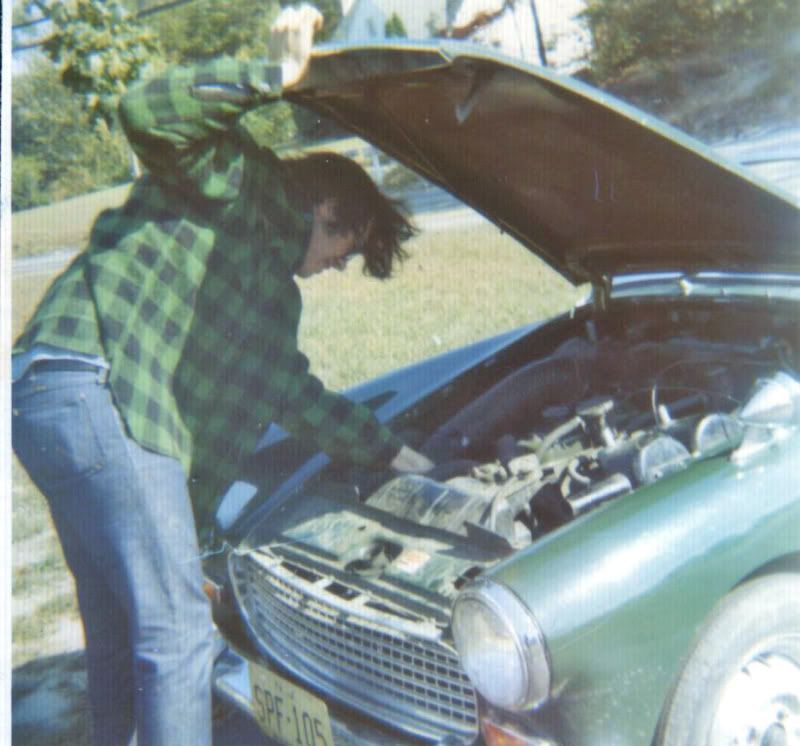 The black VW is mine. It' was a '58 with 36 HP. The SAAB 96 belonged to a friend. I drove this car to the US Grand Prix at Watkins Glen in the Fall of '68. I know this picture had to be taken in '68 because I rolled the VW and destoyed it during my first semester at Trenton State College. In the parking lot where this picture was taken. Since this was about 40 years ago, I guess the statute of limitations has run out and I won't get in trouble admitting it. I was fooling around driving during a rainy night with two buddies in the car. No seat belts of course. My friend, George was walking out to the parking lot that night and the next morning he was telling everyone about a black VW that he saw roll over in Lot #6. "Landed right back on it's wheels, but the windshield popped out and the roof was squashed down about a foot." he was telling everyone. I had hoped to keep it a secret....but nope. We used a bumper jack and some 2 X 4s to push the smashed-in roof out. It drove like a wounded crab and all the glass was broke. We put a windshield in it but there were like 3" gaps in some places so we used a mungo amount of caulk to try to seal it. Convieniently, my dad blew the 50 HP motor in his VW bus so we put the 36 HP from this in the bus. I drove *that* to college for a while. It was cool to drive a VW bus to college during the '60s, but with only 36 ponies, it was slower than a riding lawn mower.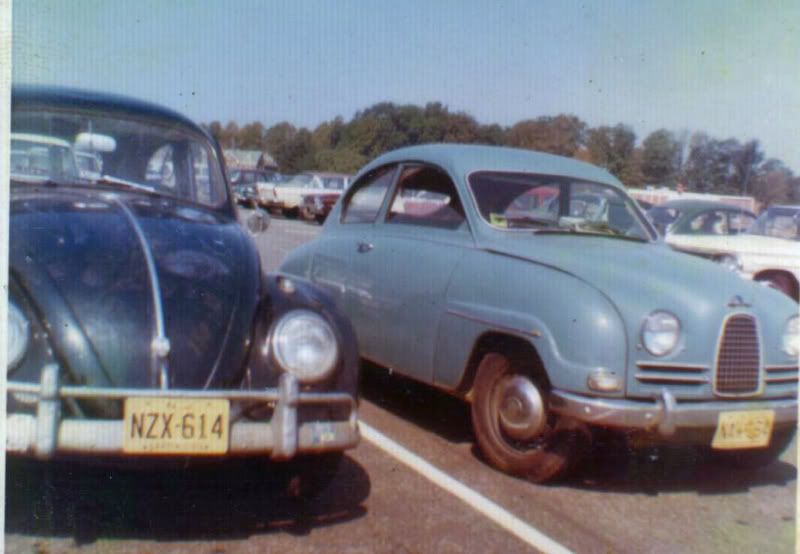 This is my roomate Chuck S. in his '61 TR3. Mine is the '58 behind it that he's using as a cone. After rolling the VW, I got this TR3. You'd think I'd learn to slow down after the VW incident, but nope. Chuck and I would tear around Trenton in our matching TRs like the two goofballs that we were. One day I was chasing him around a sharp, narrow turn and we came upon a stopped car. His brakes were better than mine and I bashed the rear of his car in pretty well. I paid to have it fixed and there was no hard feelings. But after that he always let me lead.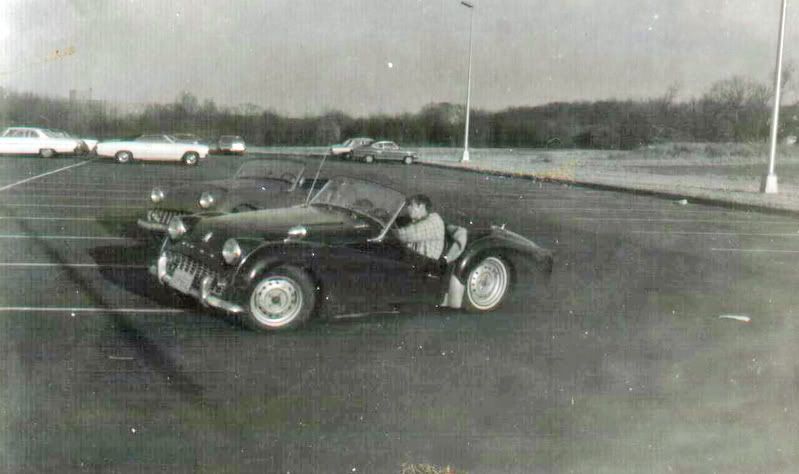 You might think I'd learn after wrecking the VW and Chuck's TR3. But no.....I still enjoyed the Trenton State College Parking Lot Grand Prix. This was me doing "warm up laps" in the parking lot in the Sprite. I used this picture for a Photgraphy class workbook. I found the workbook (and this picture) a while back. I noticed that it doesn't have the usual "SPF-105" plates in this picture so these are probably phony tags from a trailer or something. That's all I'll say about that.
I always wore my "MG jacket" (seen here) even when I drove my TR3. It was my favourite article of clothing back then. The lad with me is Bruce and I'd guess this is Xmas '69. Bruce had a Spitfire and a SAAB 96 2-stroke, so natually, I was always faster than him.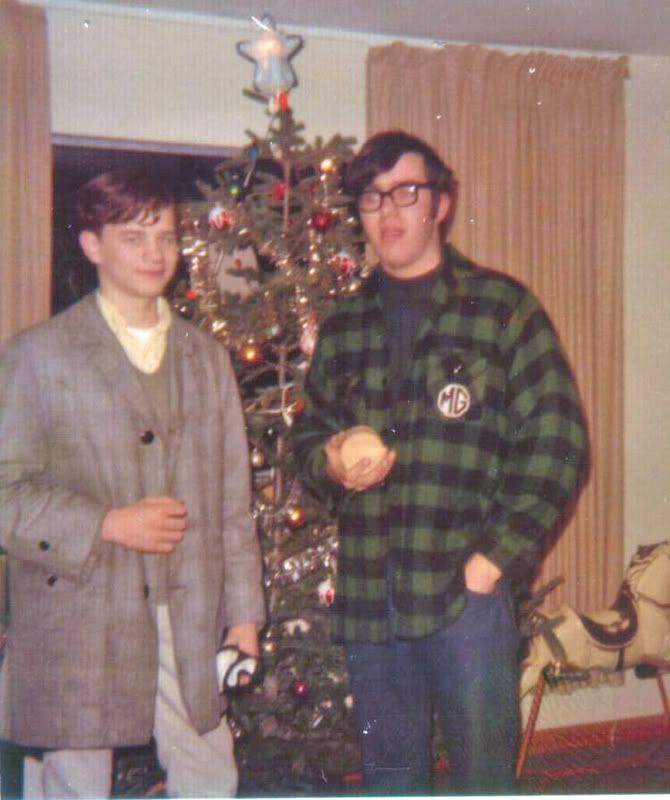 This was probably one of my first trips to Lime Rock. That's Bruce in the picture. At the time, this Mini wasn't a "vintage" racer.
This is my "car collection" in 1968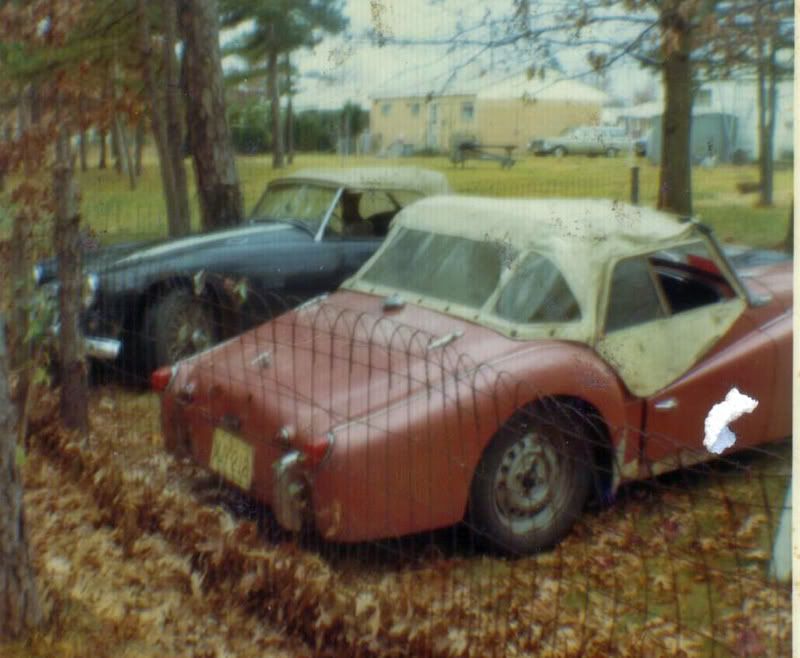 Same two cars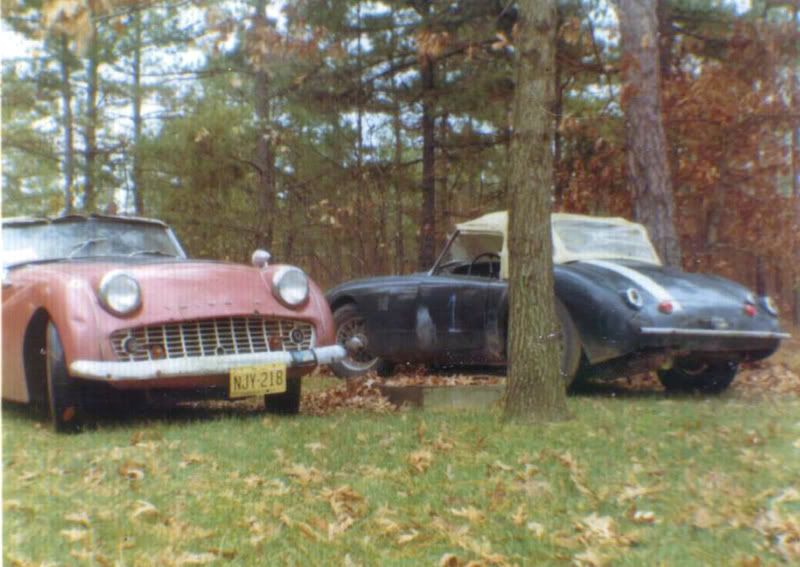 The TR3 had a crank start and I used it all the time unless I could park on a hill. I was a poor college kid and batteries cost money. I kept the distributor loose so I could back off the timing.....I didn't want to break my arm. Once it started, I'd move the timing up to the right spot "by eye". It burned a piston later on so I guess my eyes weren't that good. But I put a TR4 engine and O/D trans in it, so it wasn't a complete loss. The engine cost $100 and the trans was $125 at Stucker's Junkyard in Staten Island. That was a lot of money to put into a $160 car! The Falcon behind it was my Aunt Lil's. I took my driver's test in it and *before* I had a license, I taught her how to drive it (she had just emigrated from Ireland). Later on, the Falcon had a bunch of problems so she bought a Chevy II Nova and gave the Falcon to my Dad. He pulled the tiny 144 ci engine out and adapted it to his '56 Ford pickup. I think it was even slower than the VW bus. I used that pickup (with the tiny 144 cu. inch engine) to tow my Sprite out to several EMRA races at Bridgehamton. I made a trailer using an old Rambler frame and it probably weighed 3000 lbs by itself. Even thought there's no hills on Long Island, it took *forever* to get out to Bridgehampton. I don't think it could tow above 40 mph with a tailwind.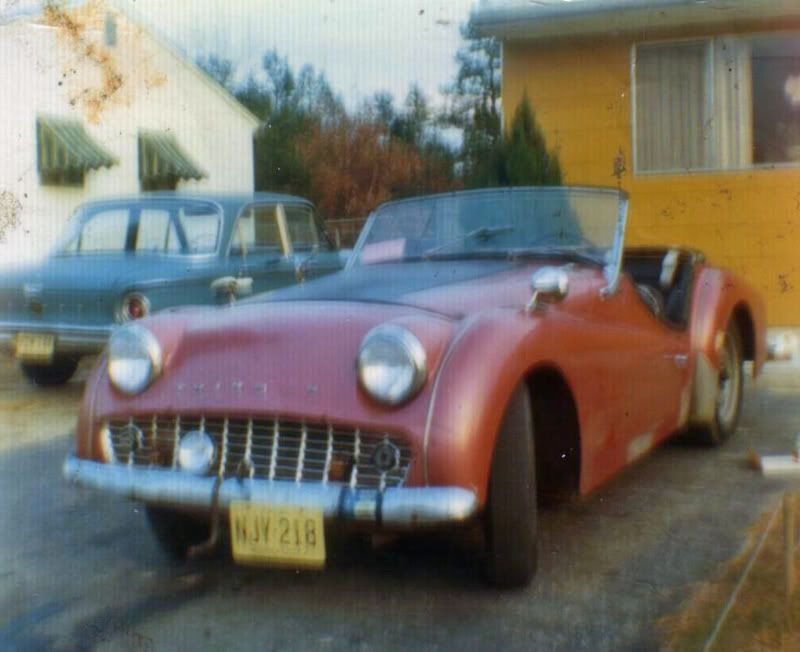 These cars all belonged to pals of mine at Trenton State.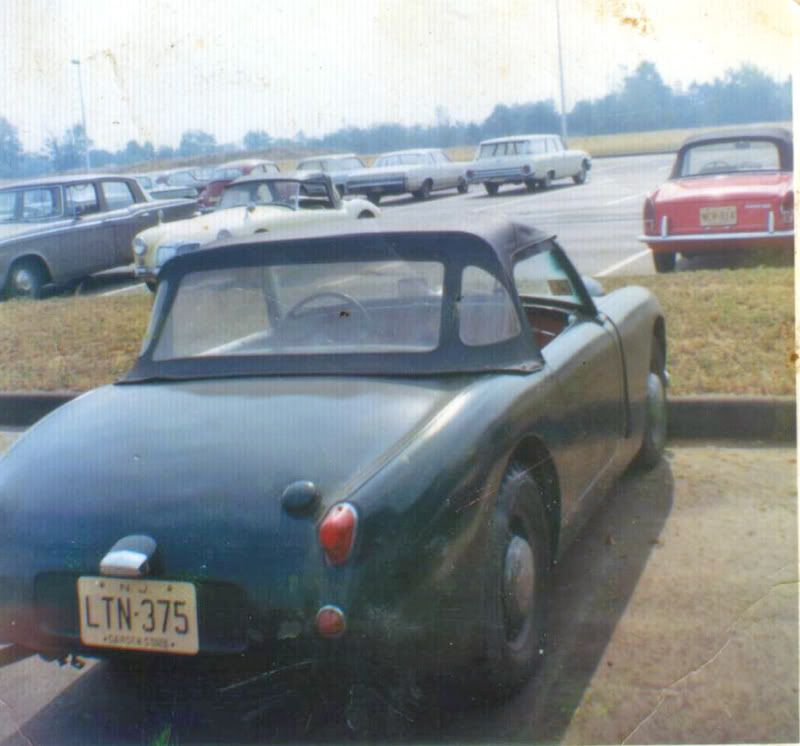 I don't think I ever ran any autocrosses with this Corvair, but I did run some rallys with it. It had a gas heater that worked even when the engine was off. Sounds dangerous but it worked good. It had a 2-speed Powerglide slushbox and I think the engine was a 140 ci with about 80 HP. Slow, but nice for driving in bad weather. It threw fan belts on a regular basis. If you get a chance, look at the fan belt on a Corvair engine....you won't believe it. During the time that I owned this car, I actually talked to Ralph Nader. It was at a college "Meet and Greet". Since he didn't seem to have a regular job but traveled all over the place, I asked him where he got all his money from. He hemmed and hawed a lot.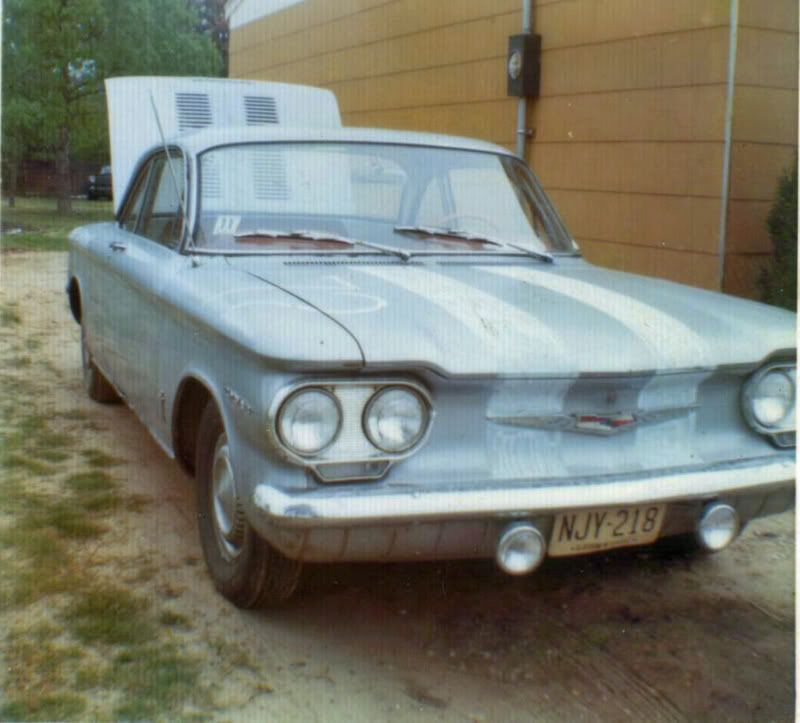 Naturally, the Corvair engine expired, so we had to rebuild it. Here's me after I'd just slid the engine out on an old tire. When I put it back in, it leaked like a sieve and we took it out again. I never liked Corvairs much after that.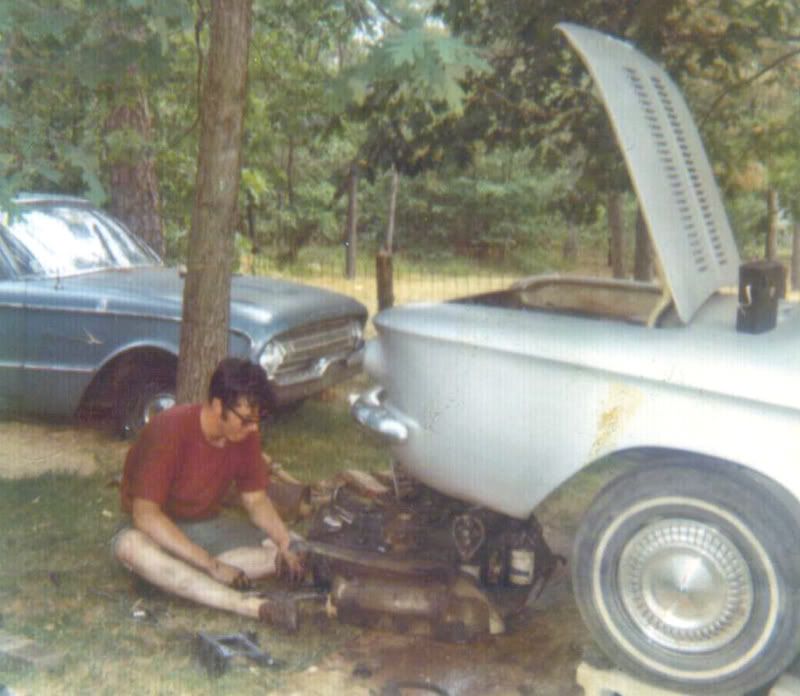 This is the Sprite at Bridgehampton at an EMRA race around '73. At the time I was running a 1098 engine that I'd gotten a real good deal on from a junkyard......only $50! The thing blew up on about the sixth lap and I got the "Meatball Flag" (dumping oil due to non-factory hole in block). When it comes to engines, you get what you pay for.
Here's another early EMRA race picture of my Sprite.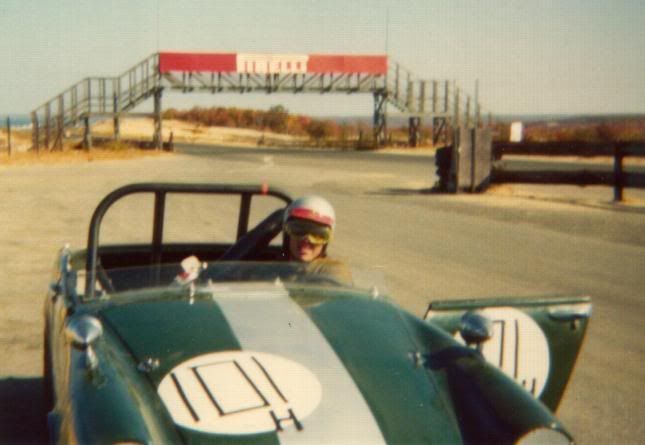 And another;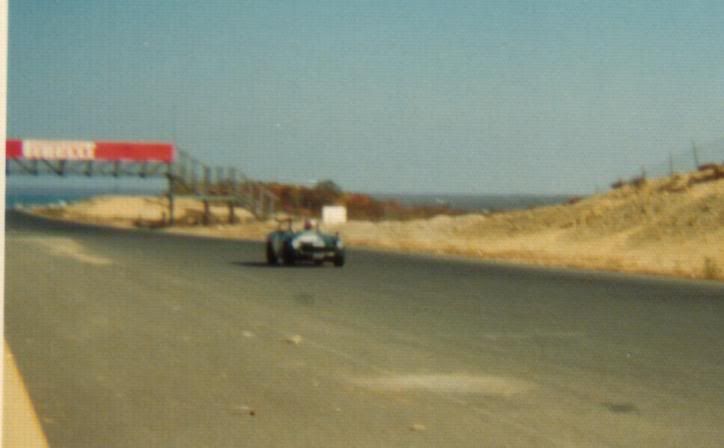 Last one.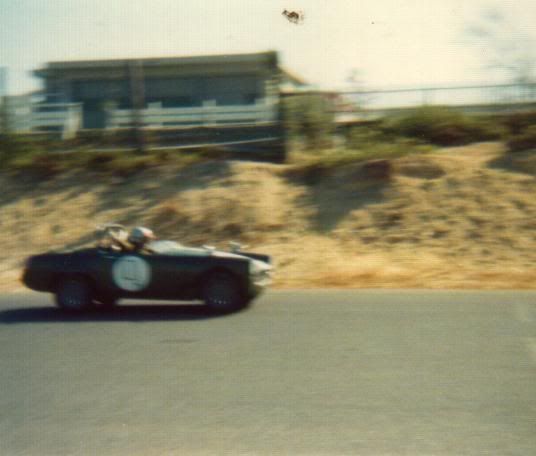 I found this in some papers a while back.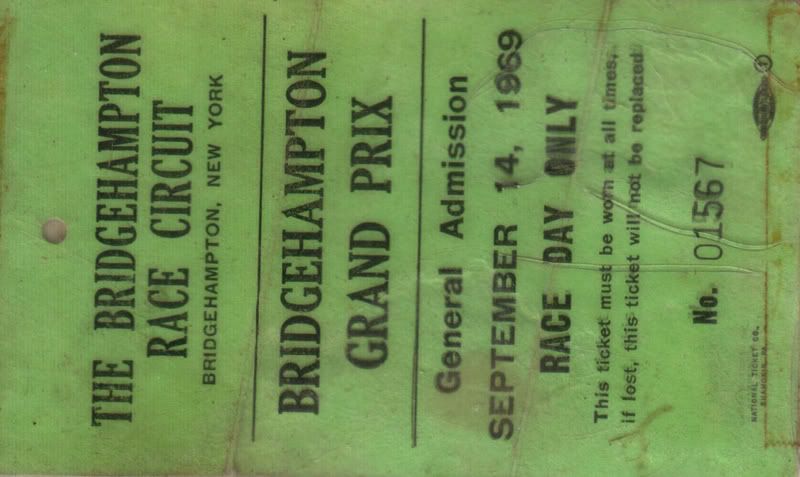 We'd go out to Bridgehampton all the time. Back then Ford would have a "Mustang Corral". So we made up a sign for "Sports Car Corral" (with "No Mustangs Allowed" on it). We'd get dozens of people with their MGs, Healeys, Triumphs, etc. This is my old pal and college roomate Charlie Seymour with his 1098 Sprite before he painted it red. That's me and the TR3 in the background. We'd hang out in our Corral and stay up late with campfires and then sleep in our cars. You have to be young to be able to sleep in a Sprite.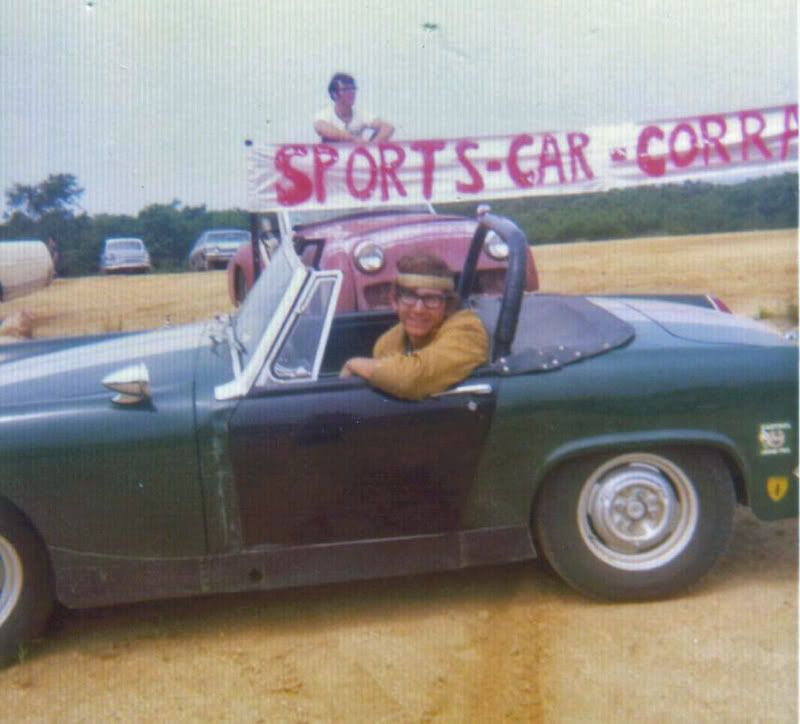 Another picture of the Bridgehampton "Sports Car Corral" Corral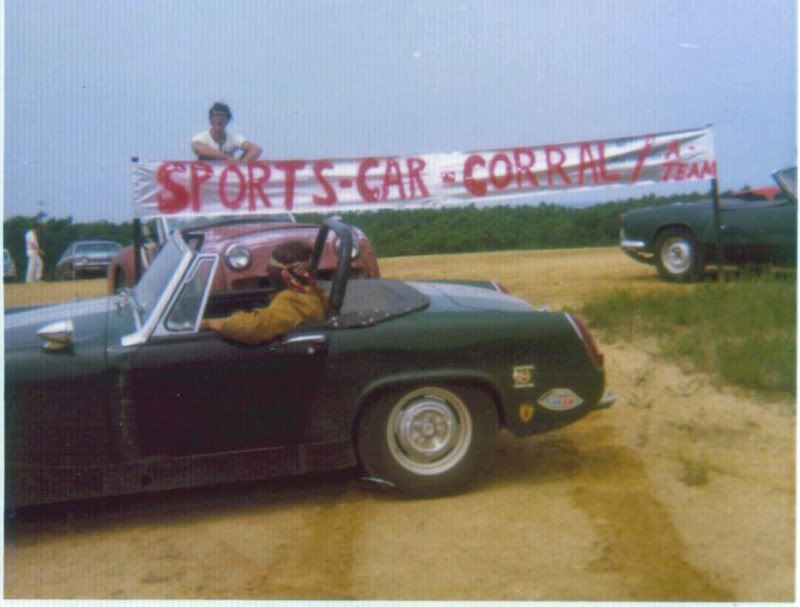 Here's a Trans Am grid at Bridgehampton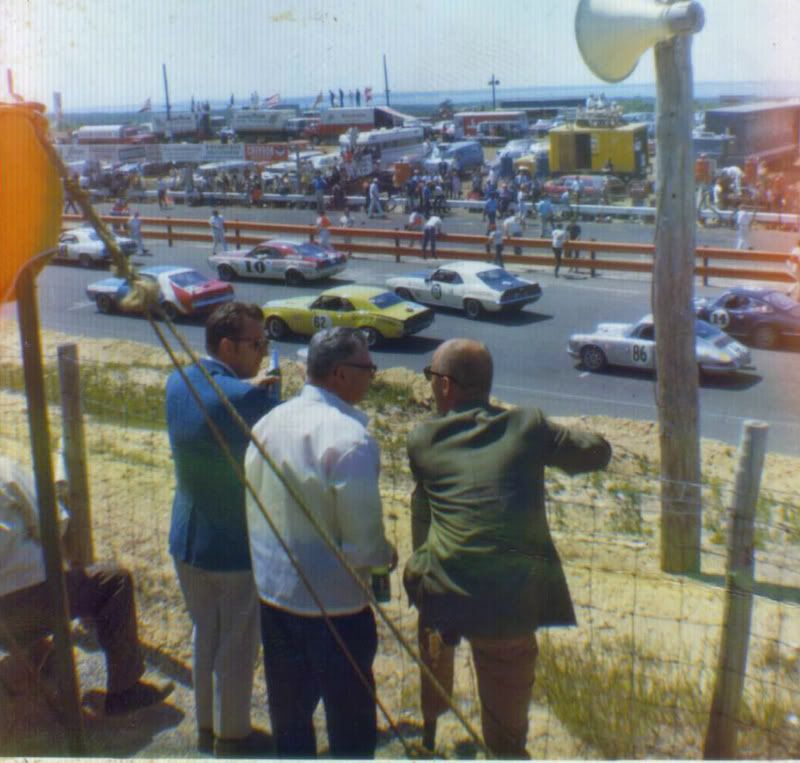 Bridgehampton -Things were low-key and often the big name racers would just work on their cars out in the open in front of everyone. One time when we were in the pits at the end of the day, Roger Penske asked me to get Mark Donahue a beer......so I did.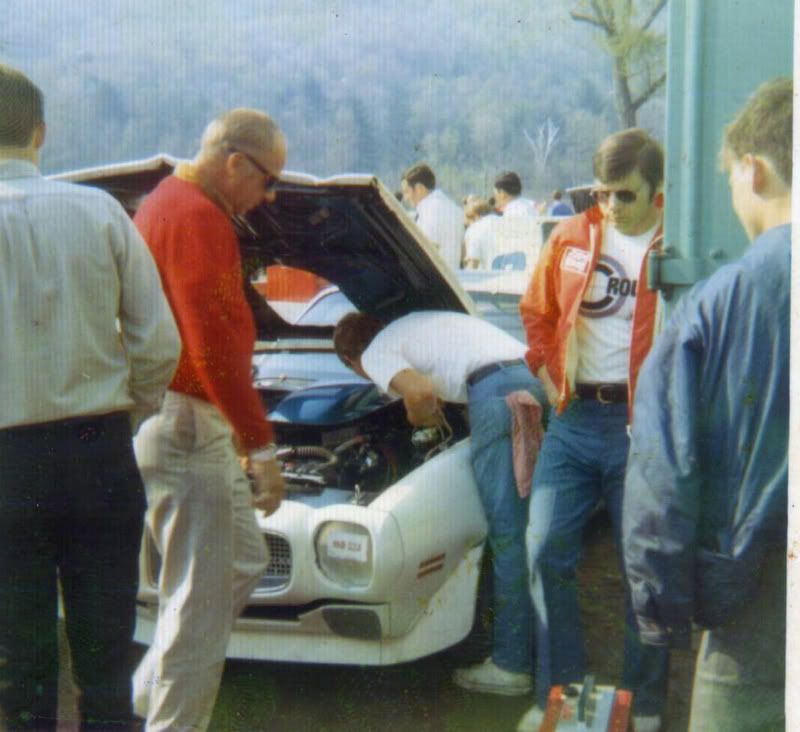 Typical view at Bridgehampton in '68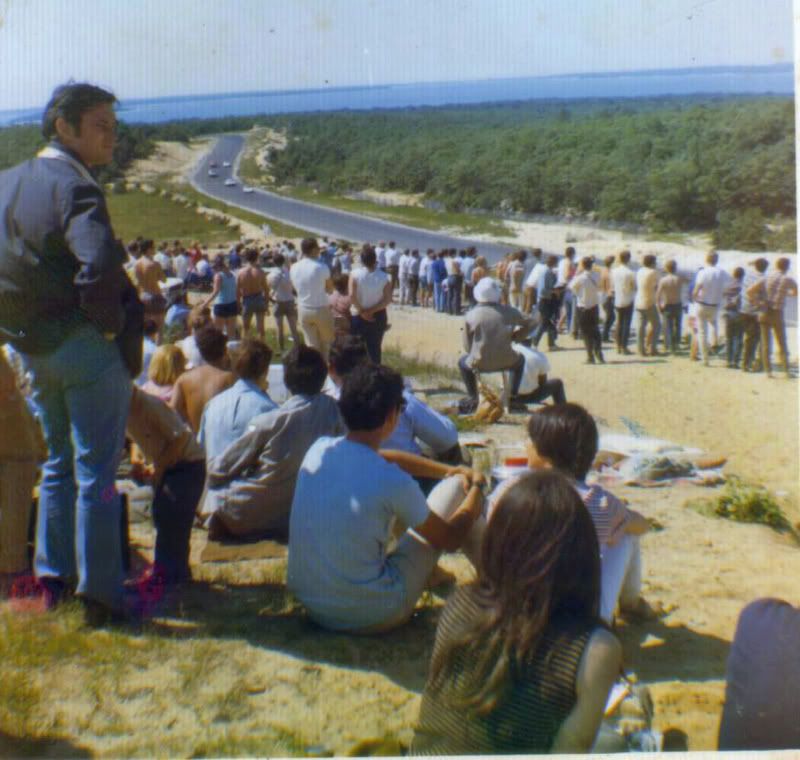 More of the same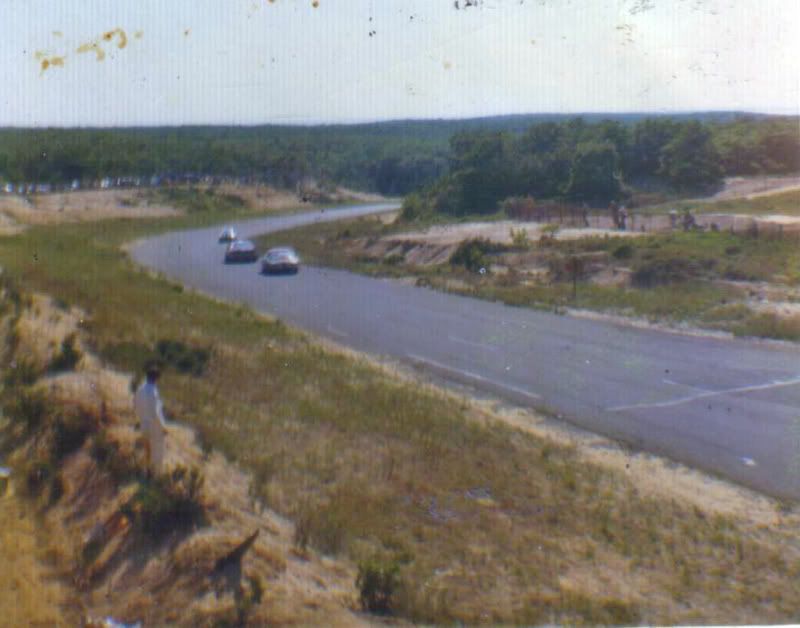 Back in the day a lot of the pro-race cars still used open trailers. I think this was Sam Posey's Trans Am racer around '72.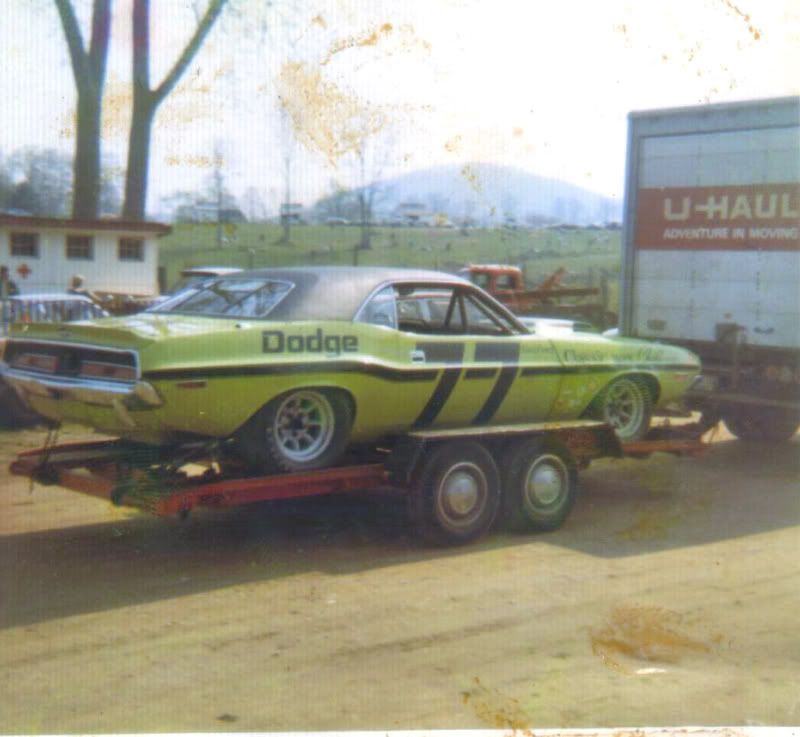 Around '77 or so, I was at an SCCA club race at Lime Rock crewing for a pal with a Formula Ford. That's Paul Newman walking away from us. He was very nice and low key...of course we just treated him like any other guy.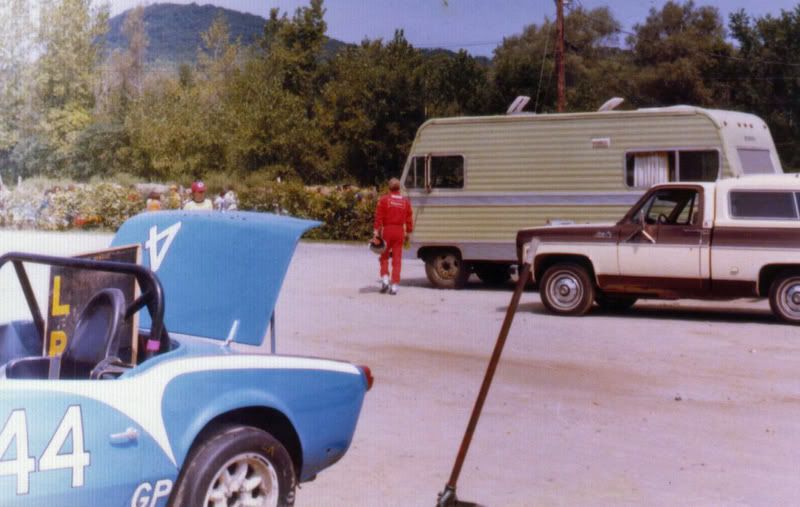 The next four pictures are thanks to Bill Giltzow. They're all from about '75. This first one represents one of those neat old specials folks used to build. As you can see, this one is unknown but it was at an EMRA race at Bridgehampton (anyone know it?). [Edit: Paul Rozek, an old South Shore member, has writen me to say he believes it was built by South Shore member Fred DeFabio (sp?). It has a TVR chassis, turbo charged Pinto motor and home-made body. Quite a combo!]
I recall helping a guy build something that looked like this but he chopped up a Ferrari 250 and used it to donate the drivetrain and suspension!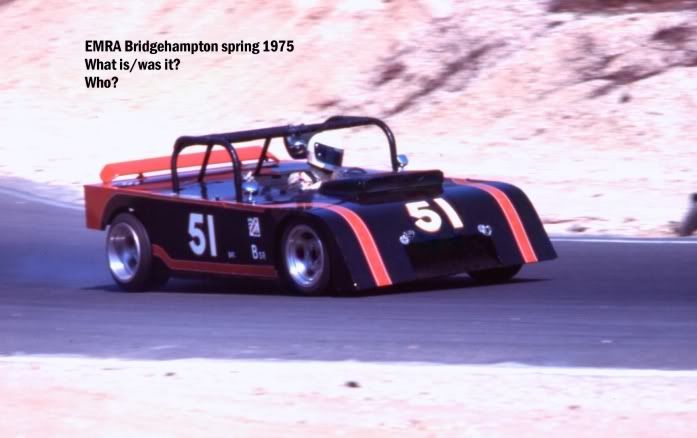 A picture of a classic open wheel car at an EMRA Bridghampton race from Bill G.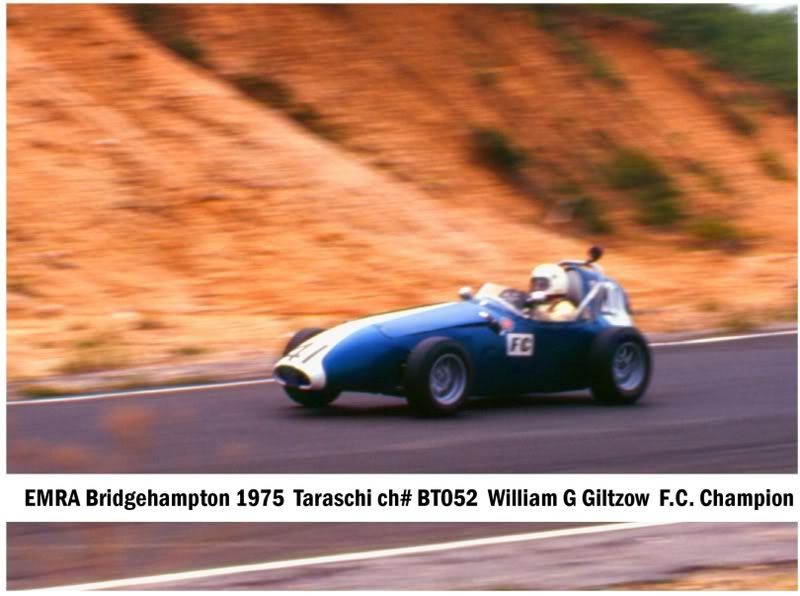 A "special" at an EMRA Bridghampton race from Bill G.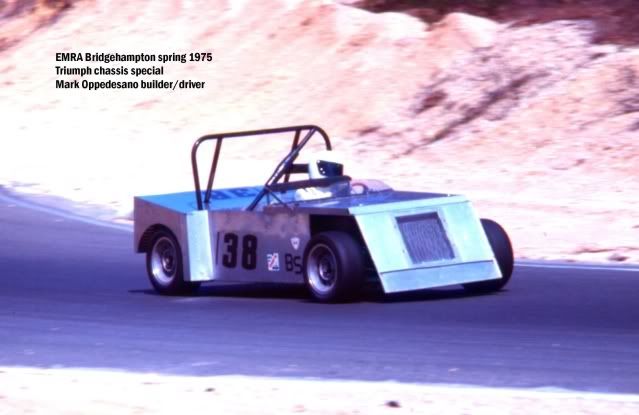 A Chevron at an EMRA Bridghampton race from Bill G.
I helped build and drive this Datsun 510 SCCA Pro-Rally car. This picture was taken in Mansfield PA at a Pro-Rally event around 1977. The factory SAAB team came to this event and there was a BDA Twin-Cam Escort there too (maybe John Buffum). After seeing the SAAB team cars drive down a one-lane, wooded dirt forest road at about 100 mph (at night), I *knew* Pro-Rally wasn't for me.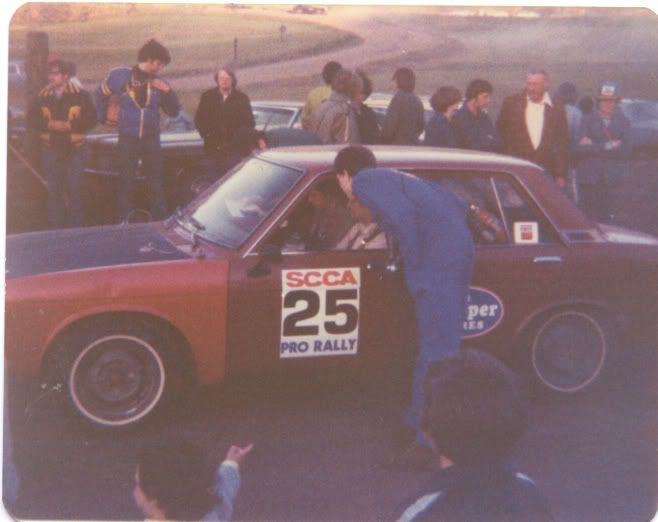 Austin Marina Rally car seen at Javits Center Car Show around '74.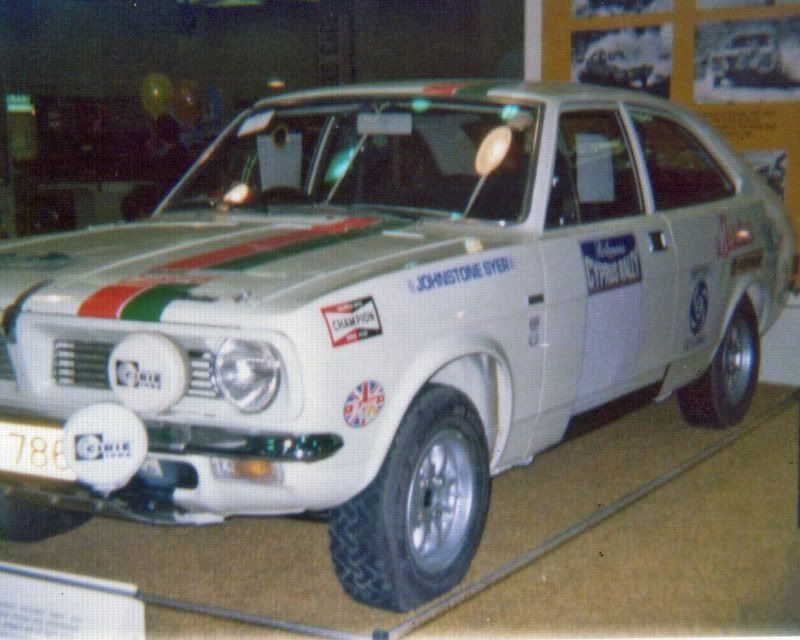 Factory TR8 race car at Lime Rock Trans Am. Fuel injected.
Just throwing this in for the heck of it; this was my landlord's car in Trenton NJ in 1968. His last name was Arena...I forget his first name but he was with the NJ State Police. That's my TR3 behind it.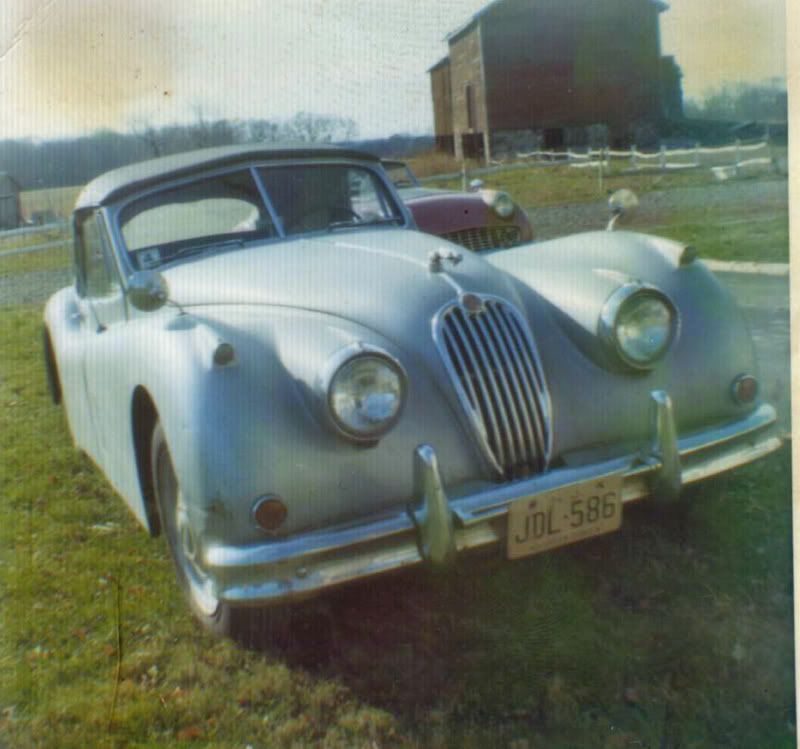 And I'll just throw this in here too; I took this at the 1964 World's Fair in Flushing Meadows, NY. This is the first Mustang I'd ever seen. I think this is the first one that Ford "revealed" to the public. Through the years a lot of other people had told me they'd seen this car at the Fair too.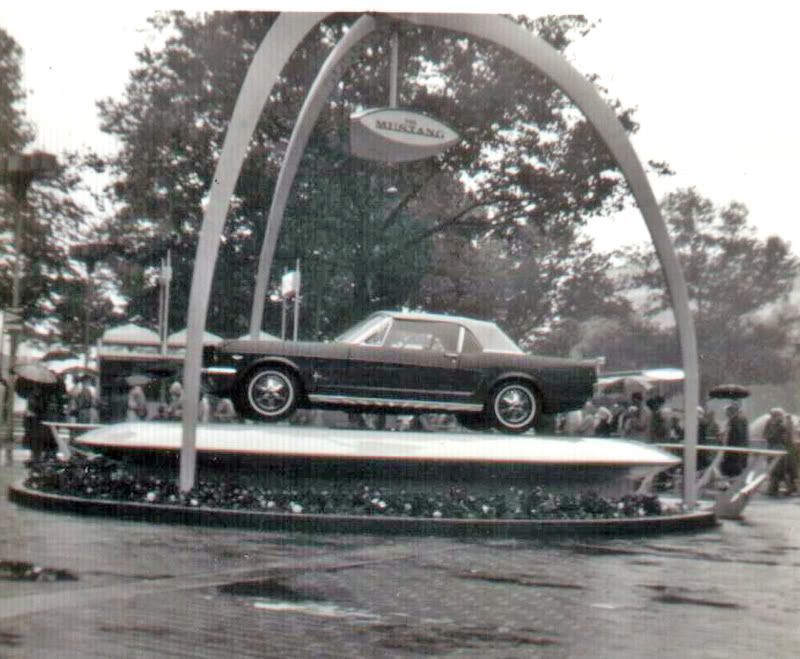 This is a much newer picture than the others but I put it in for sentimental reasons. This was taken at Pocono and the white Fiesta belonged to my good pal Bob C. It got totalled at Lime Rock around '86. The red/yellow Dodge/Mitsu Colt was driven by old pal Joe DeLuca. Joe lost his life on Flight 93 on 9/11
Not exactly motorsports....but still, "fun with cars"! Here's a recent picture of a 1902 Olds replica that my college students built a few years ago. We have a planned bio-diesel 5 HP engine ready to power it soon. This was taken at the 2007 St. Patrick's Day Parade in Morristown, NJ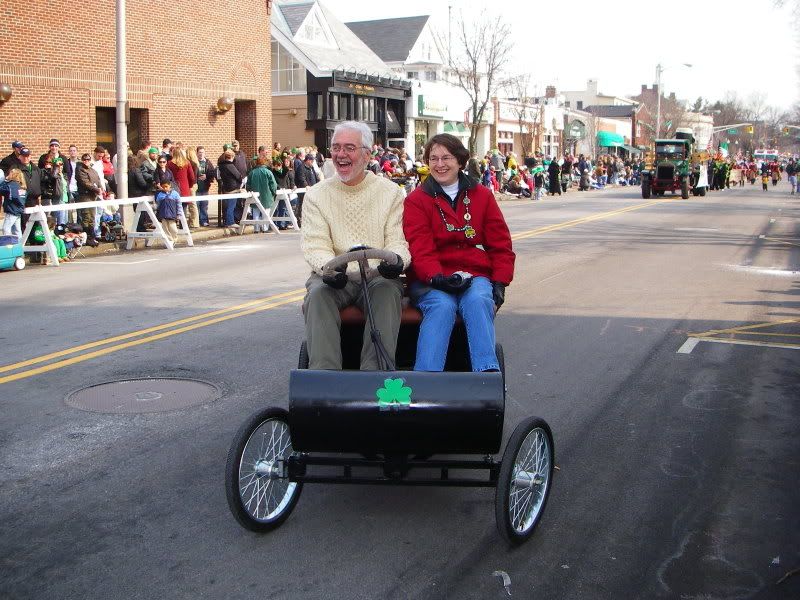 When we weren't driving "back in the day", we had a little skiffle band. We played at our high school and stuff like that. This was taken in '67 in my Aunt Johannas's basement. That's me in the TSC shirt (I still have it). The guy in the blue jacket (Sam) had an MGA coupe and later, a Tiger. The other guitar player (Bob) had a Simca that we'd race around in. The drummer (Dave) got drafted soon after this. These days he's a biker and is very active with the veteran's biker groups. When I started college, one of good friends from nearby Freehold played in a band with a dude named Bruce Springsteen. I saw them hacking around in local show joints. This was way before Bruce was famous.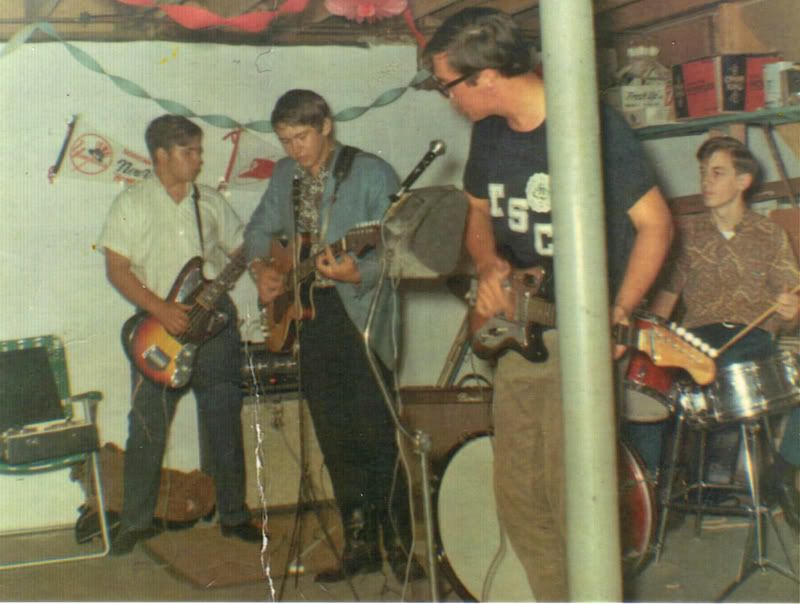 More band pix: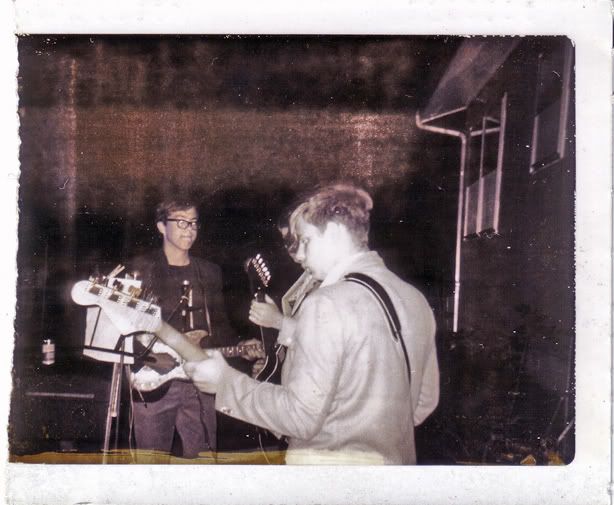 Click Here to see a racing video taken from my Spridget #11.
Click Here to see a racing video taken from my Escort #909.
Build Your Own Steam Engine and other, weird, McCabe-designed stuff.
John C's "Coldplugs" site....a *really* great site for old motorsports photos(mostly on the east coast)
Tam's "old race cars" site....another *really* great site for old motorsports photos(mostly on the west coast)